Murder House, here they come.
A whole lot of Coven goodness happened on American Horror Story: Apocalypse episode five, as the witches of Miss Robichaux's Academy—a few years before the End of Days—dealt with the growing threat of Michael Langdon (Cody Fern). But it was the episode's final moments, which teased the long-awaited return to Los Angeles' most famous Murder House, that truly made the night for AHS fans who have been dying for the first glimpse of Constance (Jessica Lange), Tate (Evan Peters), Violet (Taissa Farmiga), and the rest of the Harmon-Langdon gang since the royal wedding between Will and Kate.
That said … as always, there were several moments that made "Boy Wonder" a marvel to behold, including the return of more than one fan-favorite witch. Let's dig in.
1. Cordelia Brought About the End of Days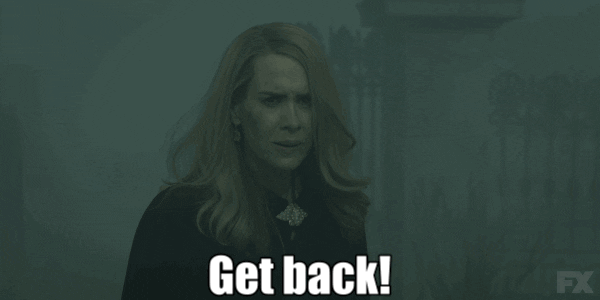 When Cordelia (Sarah Paulson) first saw Michael Langdon's phenomenal powers last week, she refused to give him the Seven Wonders test to prove whether he could overtake her as the prophesized "Alpha" male Supreme. Not because she was jealous or afraid — men simply weren't capable of that level of witchcraft, and the most powerful witch Cordelia once knew, Misty Day (Lily Rabe), had died years before trying to complete it.
But when Michael returned Madison (Emma Roberts) and Queenie from Hell, it triggered a vision in Cordelia that scared her straight. She saw the remains of her beloved school in a post-apocalyptic wasteland, and the undead ripping her apart piece-by-piece while a demon — whose white face closely resembled the one Mallory (Billie Lourd) unmasked from Michael a couple of weeks back — cruelly laughed.
So she decided to administer the Seven Wonders test after all, despite Myrtle's (Frances Conroy) hilarious objections that men should not be leaders (just look at Attila the Hun and Mark Zuckerberg!). Cordelia wanted to make sure it wasn't her own hubris that lead to the end of days, so she gave the Son of Satan his chance … actually causing the end of days.
Oops.
2. The Only Good Man Around Died Horribly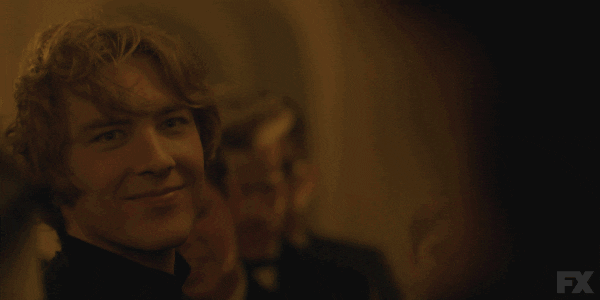 While the witches and warlocks prepared for the big test, John Henry Moore (Cheyenne Jackson) got a rare glimpse of Michael's true self and decided to intervene. He confronted Behold Chablis (Billy Porter) and probably was about to make a major move that could have saved the world, but Ariel (Jon Jon Briones) warned human Miriam Mead (Kathy Bates) and she quickly put a stop to it. She slit both of John's Achilles heels, cut his throat, then burned his body at a gas station because just two horrors weren't enough.
Ariel gleefully bragged to Michael and Miriam that he wasn't going to let John get in the way of "bitches" being put in their place, so let's all hope he dies horribly as soon as humanly (Satanly?) possible. He was so obsessed with beating Cordelia and the women that he couldn't see the evil standing right in front of him; but Miriam still warned Michael that he should keep his father's—Tate Langdon's—ghostly identity under lock and key. Y'know, just in case any of the warlocks decided to grow a brain and realize that giving Supreme powers to the Antichrist was a bad idea.
3. Misty — and Stevie! — Returned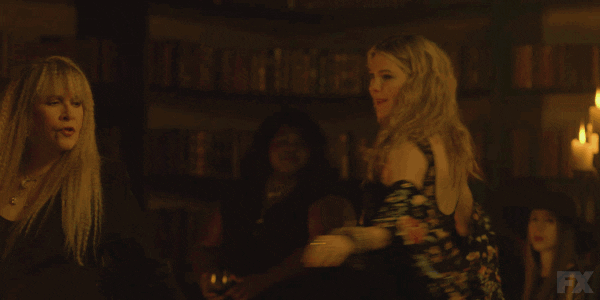 The only truly good thing to come out of Michael's Seven Wonders test was the return of Misty, the Fleetwood Mac and shawl-loving queen of our Coven hearts. Normally the "Descensum" round of the test involves putting yourself in your own personal hell then pulling yourself out of it, but Cordelia decided to do her old girl a solid and have Michael grab Misty from eternal damnation instead.
She was in pretty bad shape from her hell-years when she returned — apparently, an eternity in middle school science class roughs you up worse than cards with James Patrick March or customer service at a Home Goods store — so Cordelia flew in Stevie Nicks to heal Misty's broken heart with a performance of "Gypsy."
It was beautiful — and almost made us forget the horrors of Michael disemboweling Misty's "teacher." Almost.
4. The Women Started a War … at the Murder House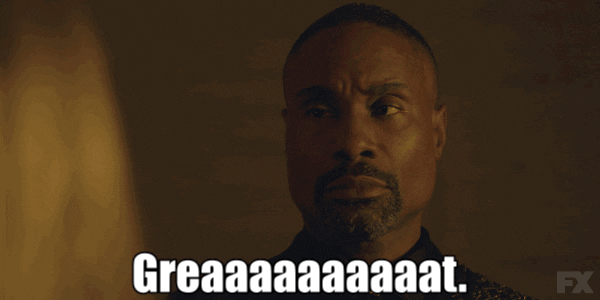 According to witch law, Michael passing the Seven Wonders test would automatically make him the next Supreme, condemning Cordelia to "fade away" and die (which, as we learned, was sadly already happening). However, Cordelia was more woke to Michael's danger than she originally let on, and told her re-gathered Coven that the only reason she let him complete the test was to have him bring back Misty, and to gauge how powerful he truly was.
Her plan was to go to war against the antichrist, and step one was to send Madison to the Murder House to dig into Michael's background. Behold decided to go with her; ostensibly because he heeded John Henry's warning, but also because Behold and Madison are a witchy match made in heaven and AHS knows what its fans truly want.
5. And Coco Had the Best Superpower in American Horror Story History
Say what you will about Michael's telekinesis, Misty's necromancy, Madison's ability to deliver perfect one-liners, and even Zoe's special sex murder — Coco's (Leslie Grossman) magical power is easily the best in AHS history.
She was sent to Miss Robichaux's when her billionaire father learned she could detect gluten allergies in other people, making her a huge hit amongst Beverly Hills' ladies who lunch. She was far less powerful than the other girls at the school (especially Mallory, its star pupil), but Cordelia swore that her ability to sense danger made her an asset.
Here's to hoping a gluten allergy is what finally brings Michael Langdon down. If there's any show that can make that work, it's American Horror Story.