Sarah Paulson has played many parts on American Horror Story: a medium, conjoined twins, the Supreme, a journalist. But in season eight, she finally got to take on a whole new role that was completely out of her comfort zone: director.
"Return to Murder House," which took viewers back to where it all began, had been hotly anticipated ever since it was announced that not only would Paulson be directing the episode, but AHS all-star Jessica Lange would also be reprising her Murder House character. Paulson spoke to The Hollywood Reporter about the daunting task of directing such a big episode, plus what is coming next for the witches trying to take down Michael Langdon (Cody Fern), who we finally learned for sure is the antichrist.
"It was a tiny bit intimidating — just the idea of doing it all was scary — but the idea that I was going to be doing this with people who are my friends; I was going to have to come at this from a different place. Not as an actor, but as a director," Paulson says about helming the crossover episode. "And having never done it before, I wasn't quite sure what that was going to look like — or whether or not they would go along with it. You just never know what's going to happen and so it was an interesting thing."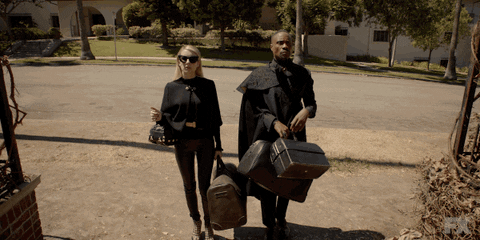 Not only was Sarah Paulson directing for the first time, but she was directing one of American Horror Story's longest and most complicated episodes to date. But with so many characters coming back to tell their Michael story—Vivien Harmon (Connie Britton), Ben Harmon (Dylan McDermott), Violet Harmon (Taissa Farmiga) and Tate Langdon (Evan Peters) to name a few—the extra time was a necessity.
"The episode I shot right before, where I was just acting, I think it had 28 scenes, or 28 strips as they are called on a schedule. Mine had 72," Paulson revealed. "It was more than any episode than I think we've ever done, so there was no way it could be the traditional length of an American Horror Story…It was also that feeling of people wanting to be reunited with these characters, so let's not give them short shrift. Let's give them more time with these characters and let the audience have their time with these people for the last time."
The episode also marked Jessica Lange's first appearance on American Horror Story since Freak Show, which gave "Return to Murder House" even more weight, and in turn giving Paulson another element she knew she had to get exactly right.
"She slipped back very easily into Constance. It's a character I think she has a particular affinity for," Paulson says about working with Lange. "I can't speak for her, but she was incredibly receptive and you could tell she was just wanting to give me what I wanted. She was very generous and indulged me in doing multiple takes and really was there for me. It was really extraordinary. So was Kathy [Bates], Emma [Roberts], Billy [Porter] and Franny [Conroy]. Everyone. I really felt like I was doing this with my family."
Now that Madison and Behold's "worst fears have been confirmed," according to Paulson, what's the next step for the witches and warlocks who want to put a stop to Michael's evil destruction? In a word? Panic.
"Once you have that information, everything changes. You can't un-know it. The witches and warlocks now know what they're dealing with and how terrifying that new reality is," she previews. "I think it sends everyone into an appropriate panic state. And how they handle it will remain to be seen."