Holidays are around the corner and that means two things. One, you're about to have at least a few days off from work and school. And two, you should probably come up with some kind of activity that you can do with family members that doesn't require you speaking to them all that much. We have exactly what you need.
With over 100 seasons and over 1,400 episodes, FX+ is the perfect addition to your holiday plans. You can marathon entire seasons of shows like Sons of Anarchy, You're the Worst, Legion, Fargo and The Shield, all completely ad-free. Need some help figuring out what shows to pick and how much time to dedicate to your binge-watching session? We have the info you need!
If you only have a handful of hours to spare or you aren't in the mood to do a deep dive into a show's long mythology, you're at the Beginner Level. Below you'll find a guide to series with a few seasons (or less) under their belts, so you have plenty of time to burn through.  
Series: Atlanta
Starring: Donald Glover, Brian Tyree Henry, Lakeith Stanfield, Zazie Beetz
Number of Seasons/Episodes: Two seasons, 21 episodes
Reaction GIF You Need: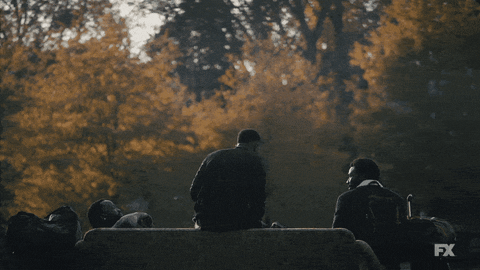 Watch If You're in the Mood For: A surrealist comedy, all the Donald Glover you can handle, understanding Teddy Perkins
Notable Line: "Everything made up, stay woke."—Darius
Atlanta Season 2 Trailer:
Series: Pose 
Starring: Evan Peters, Kate Mara, James Van Der Beek, Mj Rodriguez, Dominique Jackson, Billy Porter, Indya Moore, Ryan Jamaal Swain, Charlayne Woodard, Dyllón Burnside, Hailie Sahar, Angelica Ross, Angel Bismark Curiel
Number of Seasons/Episodes: One season, eight episodes
Reaction GIF You Need: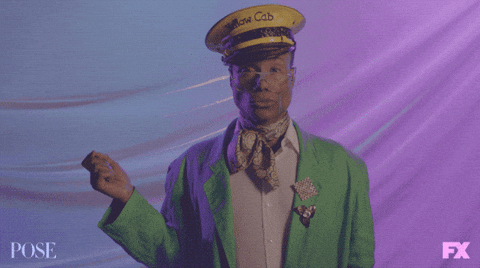 Watch If You're in the Mood For: Dancing, judging, '80s fashion, scathing one-liners, uplifting family moments
Notable Line: "A house is much more than a home. It's family. And every family needs a mother who is affirming, caring, loyal, and inspiring." – Pray Tell
Pose Season 1 First Look:
Series: Mayans M.C. 
Starring: JD Pardo, Clayton Cardenas, Edward James Olmos, Sarah Bolger, Michael Irby, Carla Baratta, Antonio Jaramillo, Raoul Max Trujillo, Richard Cabral, Danny Pino, Emilio Rivera, Frankie Loyal, Joseph Lucero, Vincent Rocco Vargas
Number of Seasons/Episodes: One season, 10 episodes
Reaction GIF You Need: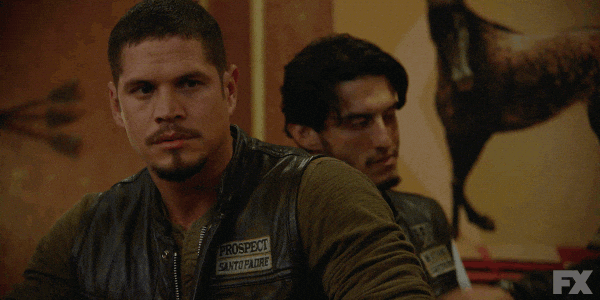 Watch If You're in the Mood For: The next chapter in the Sons of Anarchy saga, motorcycles, family drama
Notable Line: "We choose our family, but not our blood."—Adelita
Mayans M.C. | Inside Season 1: The Creator, Kurt Sutter:
Series: Taboo
Starring: Tom Hardy, Jonathan Pryce, Jessie Buckley, Oona Chaplin, Jefferson Hall, David Hayman, Franka Potente, Stephen Graham, Michael Kelly, Jason Watkins, Mark Gatiss, Tom Hollander
Number of Seasons/Episodes: One season, eight episodes
Reaction GIF You Need: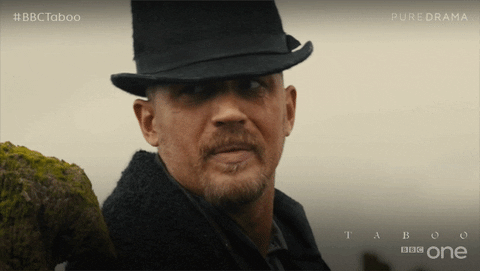 Watch If You're in the Mood For: Period dramas, British accents, Tom Hardy with tattoos, dark family tales
Notable Line: "We will allow him to think he is one step ahead."—Sir Stuart Strange
Taboo Season One Trailer:
Series: Better Things 
Starring: Pamela Adlon, Celia Imrie, Mikey Madison, Hannah Alligood, Olivia Edward
Number of Seasons/Episodes: Two seasons, 20 episodes
Reaction GIF You Need: 
Watch If You're in the Mood For: A mom, dad, referee and cop, all rolled into one person, no filters, mother-daughter storylines, a look into the life of a working actor
Notable Line: "We're all girls and we're all women…we're tough and we can take it."—Sam
Better Things Season Two First Look:
Series: Mr Inbetween
Starring: Scott Ryan, Damon Herriman, Justin Rosniak, Brooke Satchwell, Nicholas Cassim, Chika Yasumura, Edmund Lembke-Hogan
Number of Seasons/Episodes: One season, six episodes
Reaction GIF You Need: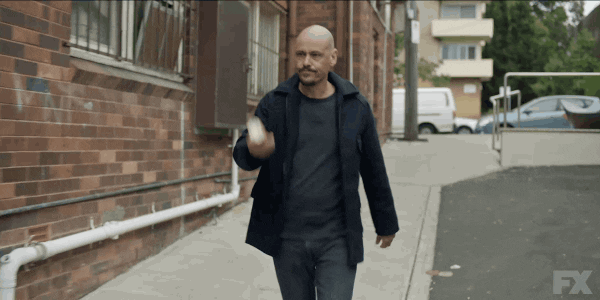 Watch If You're in the Mood For: Lots of punching and kicking, brotherly love, Australian accents, touching father-daughter moments, hitman shenanigans
Notable Line: "I wouldn't say I enjoy hitting people. You know, if I hit somebody, I generally got a pretty good reason."–Ray Shoesmith
Mr Inbetween Season One Special Look:
Series: FEUD: Bette and Joan
Starring: Jessica Lange, Susan Sarandon, Stanley Tucci, Alfred Molina, Judy Davis, Jackie Hoffman, Alison Wright
Number of Seasons/Episodes: One season, eight episodes
Reaction GIF You Need:
Watch If You're in the Mood For: Old Hollywood glamour, two acting legends trading fiery insults, taking down the patriarchy, smart women taking on misogyny and ageism
Notable Line: "Men may have built the pedestal, but it's women who keep chipping away at it until it comes tumbling down."—Jessica Lange as Joan Crawford
FEUD: Bette and Joan Trailer: 
Series: Trust
Starring: Donald Sutherland, Hilary Swank, Harris Dickinson, Michael Esper, Brendan Fraser
Number of Seasons/Episodes: One season, 10 episodes
Reaction GIF You Need: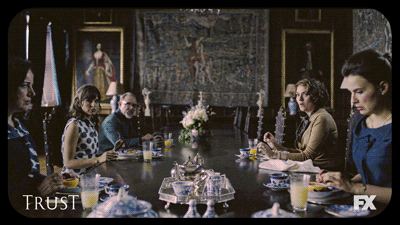 Watch If You're in the Mood For: Dysfunctional family drama, Brendan Fraser in a cowboy hat, seeing rich people do bad things, kidnapping plots
Notable Line: "Turns out a rich life is just as messed up as a poor life. Just a different kind of messed up."—Brendan Fraser as James Fletcher Chace
Trust Season One: Inside Look: