Iliza Shlesinger | Hysterical on FX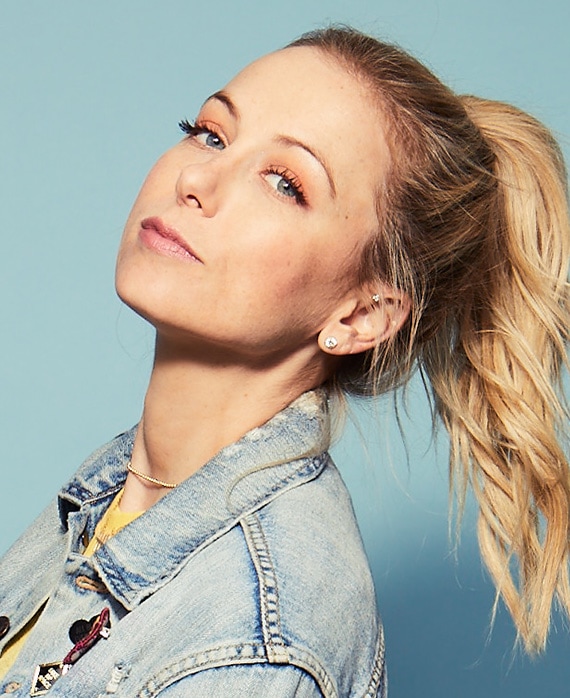 While she is known for being one of today's leading comedians with five Netflix specials, Iliza Shlesinger has recently branched out into acting. She starred opposite Mark Wahlberg in the Netflix film Spenser Confidential and appeared in the drama Pieces of a Woman starring Shia LaBeouf and Vanessa Kirby, which screened as part of the 77th Venice International Film Festival and the Toronto International Film Festival in September 2020. Shlesinger was previously seen in 2018's Instant Family starring Mark Wahlberg and Rose Byrne. Her Netflix series The Iliza Shlesinger Sketch Show premiered in April 2020 and she later guest hosted Jimmy Kimmel Live.
In March 2020, to encourage people to stay at home and flatten the curve, Shlesinger and her husband, chef and James Beard Award-nominated author Noah Galuten, launched Don't Panic Pantry, a fun follow-along at-home cooking show that broadcasts live via social media and includes easy-to-make recipes. The show recently surpassed 120 episodes and has been featured on TODAY, The Talk and more.
In November 2019, she premiered her fifth Netflix stand-up special Unveiled, which delves into her journey of getting married. Her past specials include War Paint, Freezing Hot and Confirmed Kills. Shlesinger's 2018 Netflix special Elder Millennial is the subject of Iliza Shlesinger: Over & Over, her "fan-u-mentary," which is currently streaming and gives fans an inside look into what goes into the making of one of her specials.
In 2017, Shlesinger released her first book Girl Logic: The Genius and the Absurdity (Hachette Book Group), a subversively funny collection of essays and observations on a confident woman's approach to friendship, singlehood and relationships. On her new podcast AIA: Ask Iliza Anything she offers up her unique perspective to listeners, answering their questions on virtually any topic. Past credits include Truth & Iliza, the limited run talk show she hosted on Freeform and Forever 31, a digital series she created and starred in for ABC Digital. She is the youngest and only female comedian to hold the title of NBC's Last Comic Standing.
In 2019, Shlesinger launched "Christmas Mouth," a limited-edition fragrance she created for her fans and named after her recently departed dog Blanche. It quickly sold out, with a portion of the pre-sale proceeds going to support Best Friends Animal Society.