Ari Graynor as Brenda Feigen-Fasteau | Mrs. America | FX on Hulu
Ari
Graynor
Brenda Feigen-Fasteau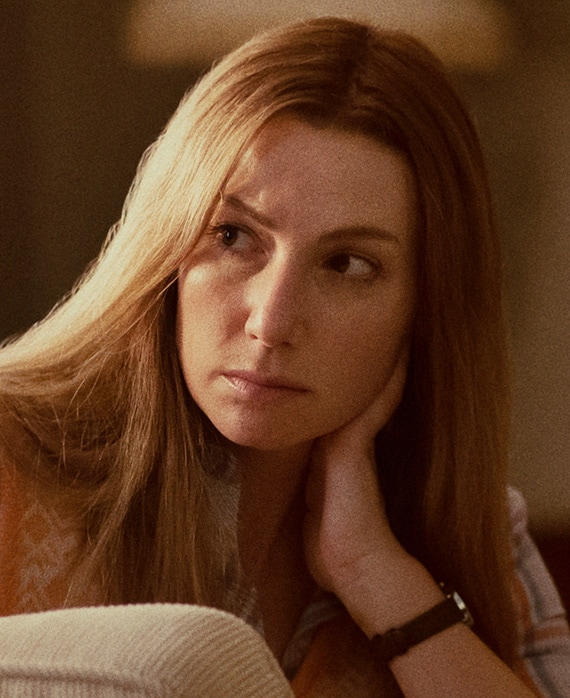 A Harvard-educated lawyer, "Brenda Feigen-Fasteau," portrayed by Ari Graynor, was a young feminist in the women's movement who co-founded Ms. Magazine with Steinem, worked with Ruth Bader Ginsberg at the ACLU, and helped the feminist effort to ratify the ERA.
Graynor most recently starred opposite Melissa Leo in Showtime's I'm Dying Up Here.
On the film side, Graynor recently appeared on the big screen in the Jason Reitman film The Front Runner. Her additional film credits include The Disaster Artist, directed by and starring James Franco along with Seth Rogen and Dave Franco; Michael Angarano's directorial debut, Avenues; For a Good Time, Call…, which she also executive produced (Sundance Film Festival 2012); Celeste and Jesse Forever (Sundance Film Festival 2012); 10 Years (Toronto International Film Festival 2011); David Gordon Green's The Sitter with Jonah Hill; What's Your Number? with Anna Faris and Chris Evans; Holy Rollers with Jesse Eisenberg (Sundance Film Festival 2010); Nick and Norah's Infinite Playlist; Tony Goldwyn's Conviction with Hilary Swank and Sam Rockwell; Miguel Arteta's Youth in Revolt; the Drew Barrymore-directed Whip It, also starring Ellen Page; An American Crime (Sundance Film Festival 2007) with Catherine Keener and Ellen Page; Michael Hoffman's Game Six (Sundance Film Festival 2005) with Michael Keaton and Robert Downey Jr; and her film debut, Clint Eastwood's Academy Award®-winning film Mystic River.
On stage, Graynor most recently starred in the MCC Theater production of Yen, the American premiere of Anna Jordan's Bruntwood Prize-winning play. Graynor received a Lucille Lortel Award nomination for her performance in the play, which also starred Lucas Hedges and Justice Smith. Over her illustrious theater career, Graynor has appeared in numerous stage productions both on and off Broadway, beginning with her 2005 Broadway debut in Donald Marguiles' Brooklyn Boy, for which she received the 2005 Clarence Derwent Award for Most Promising Female Actress. Other Broadway productions include the 2007 Douglas Carter Beane Tony Award®-nominated play The Little Dog Laughed; David West Reade's The Performers; and Woody Allen's Honeymoon Motel, which is part of the Relatively Speaking anthology.
Additionally, Graynor was seen off-Broadway in Bess Wohl's American Hero, Paul Weitz's Trust and Bert V Royal's Dog Sees God.
Among her many additional stand-out television credits, Graynor starred in and produced the CBS comedy Bad Teacher and played "Caitlin," the troubled roommate of "Meadow Soprano" on The Sopranos.
Graynor was born in Boston, Massachusetts and currently resides in both New York City and Los Angeles.