Cate Blanchett as Phyllis Schlafly | Mrs. America | FX on Hulu
Cate
Blanchett
Phyllis Schlafly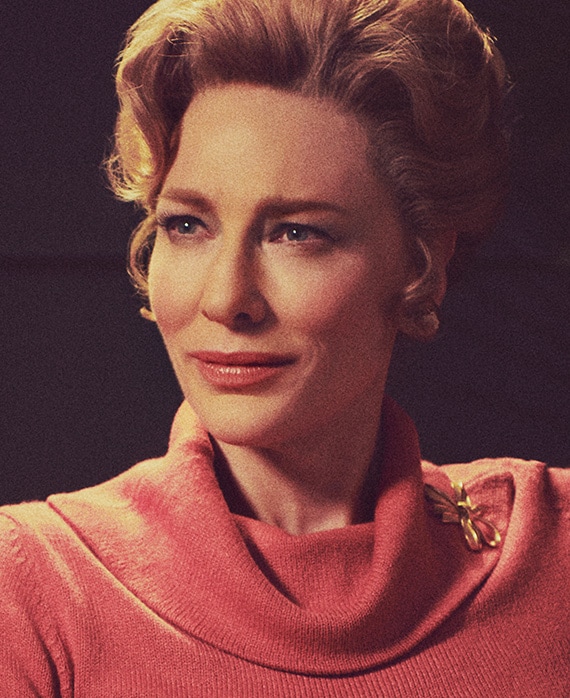 A self-described activist housewife from Illinois, "Phyllis Schlafly," portrayed by Cate Blanchett, was a conservative firebrand and virulent anti-communist. She had six children, authored several books, and published a popular newsletter. In 1972, she launched a national campaign against the Equal Rights Amendment. She remained active as a commentator for decades, and the ripple effects of her work can still be felt today.
Blanchett is an internationally acclaimed and award-winning actor, producer, humanitarian and dedicated member of the arts community. In recognition of her continued advocacy for the arts and support of humanitarian and environmental causes, Blanchett has been awarded the Companion of the Order of Australia in the General Division; the Centenary Medal for Service to Australian Society through Acting; the Stanley Kubrick Award for Excellence in Film; the Women in Film Crystal + Lucy Award for expanding the roles of women in film; and the Chevalier de l'Ordre des Arts et des Lettres by the French Minister of Culture. She holds Honorary Doctorates of Letters from the University of New South Wales, the University of Sydney and Macquarie University, and is a graduate of the National Institute of Dramatic Arts.
In 2018, Blanchett served as Jury President of the 71st Cannes Film Festival in France. Her countless extraordinary film performances have garnered Blanchett three BAFTAs®, two Academy Awards®, three Golden Globe® Awards, as well as numerous award nominations. Blanchett is equally accomplished on the stage, having led the Sydney Theatre Company as co-artistic director and CEO for six years with her partner, Andrew Upton. For her onstage roles, she was nominated for a Tony Award® and honored with the Ibsen Centennial Commemoration Award. Blanchett is a patron of the Sydney Film Festival, an ambassador for the Australian Film Institute and The Old Vic theatre and a lifetime ambassador for the Australian Conservation Foundation. She is also a Global Goodwill Ambassador for the United Nations High Commissioner for Refugees (UNHCR) and was honored with the Crystal Award at the 2018 World Economic Forum in Davos. She is co-founder and president of the production company Dirty Films with Upton. Dirty Films has produced such films as Carol, Truth and Little Fish.
Blanchett can soon be seen in the six-episode drama series Stateless, which she co-created with Elise McCredie and which is executive produced by Dirty Films along with Matchbox Pictures. Featuring an all-female writing and directing team, Stateless examines issues of displacement as shown through four characters caught up in Australia's immigration system, each one shedding light on the complications and contradictions of border protection.
Blanchett resides in the United Kingdom with her husband, four children, three dogs, two pigs and chickens.