Amber Tamblyn as Kimberly Campbell Cunningham | Y: The Last Man | FX on Hulu
Amber
Tamblyn
Kimberly Campbell Cunningham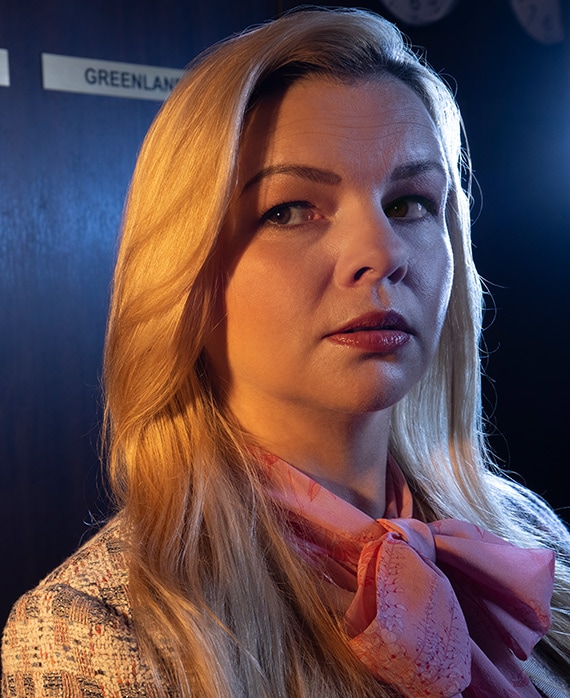 Amber Tamblyn portrays "Kimberly Campbell Cunningham," a best-selling author with a conservative personality. Kimberly would say her most important job is being a mother to three young boys. The daughter of the President, Kimberly used her connections and political savvy to build a lifestyle brand around being a "boy mom." Devastated after the death of her children, Kimberly works to install a new President who will do whatever it takes to bring back the world they've lost.
Tamblyn is an author, actress and director who has been nominated for an Emmy®, Golden Globe® and Film Independent Spirit Award for her work in television and film.
Tamblyn's work in TV spans over two decades including supporting roles on House, General Hospital, Two and a Half Men and The Increasingly Poor Decisions of Todd Margaret as well as a starring role on Joan of Arcadia for which she was nominated for both a Primetime Emmy Award and Golden Globe Award in 2004 for her performance as "Joan Girardi."
On the big screen, Tamblyn starred in The Sisterhood of the Travelling Pants, The Ring, 127 Hours and earned a nomination for Best Supporting Female at the 2006 Film Independent Spirit Awards for her performance in Stephanie Daley, which she starred in alongside Tilda Swinton and Timothy Hutton. Tamblyn also wrote, directed and produced the feature film adaptation of Janet Fitch's novel Paint It Black. The film was nominated for Best Film at the LA Film Festival in 2016.
A bold and fearless writer, Tamblyn challenges and enthralls readers with her poetry and prose. Her memoir Era of Ignition: Coming of Age in a Time of Rage and Revolution was published in 2019 by Crown, an imprint of Penguin Random House, to widespread acclaim. She is also the author of three books of poetry, including the critically acclaimed bestseller Dark Sparkler and her electric and provocative debut novel Any Man. Tamblyn is a contributing writer for The New York Times, reviews books of poetry by women for BUST Magazine and is a poet-in-residence at Amy Poehler's Smart Girls. An avid proponent of gender equality, Tamblyn is a founder of Time's Up where she serves on the Global Leadership Board.
She currently resides in Brooklyn, New York.