Darren Criss as Andrew Cunanan | ACS: Versace | FX
Darren
Criss
Andrew Cunanan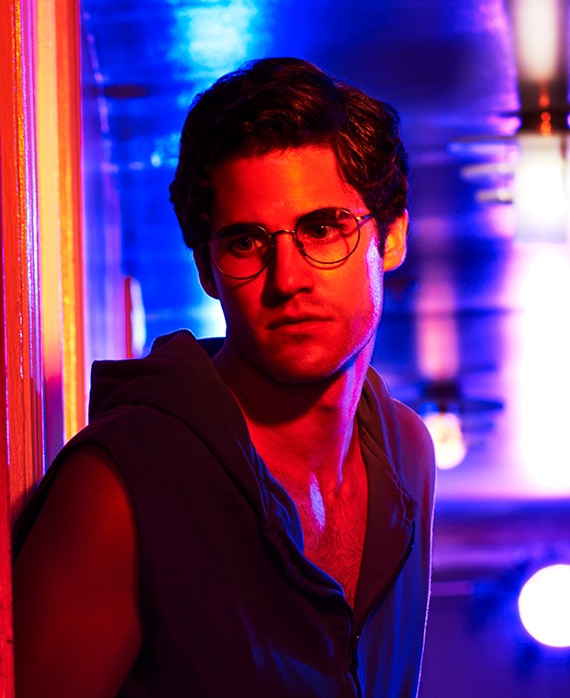 Darren Criss stars as Andrew Cunanan in the FX anthology series The Assassination of Gianni Versace: American Crime Story.
Criss is an Emmy® nominated artist with an illustrious career spanning television, film, music and stage.
Earlier this year, Criss debuted his indiepop band Computer Games along with his brother Chuck Criss. Their first album, Lost Boys Life EP, which features four songs written by the duo, quickly became a fan favorite and debuted to rave reviews. The lead single "Every Single Night" debuted at #2 on Billboard's "Hot Singles" chart and landed on various lists including "50 Best Songs of 2017 So Far," "20 Awesome Pop Songs From 2017's First Half You Might Have Missed," "10 Great Pop Songs From March You Might've Missed" and deemed one of the best moments at the 2017 MTV Movie & TV Awards. Teen Vogue labeled the album as "an indie gem filled with plenty of 80s pop inspiration and a dash of true DIY sensibility," while Entertainment Weekly described their sound as "a funky blast to the past in the spirit of some of the grooviest '80s superstars."
Last fall, Criss returned to Broadway in his critically-acclaimed performance as "Hedwig" in Hedwig and the Angry Inch, which kicked off the 2014 Tony Award-winning Best Musical Revival's national tour. The New York Times touted Criss as "mesmerizing" when he first stepped into the title role on Broadway in 2015. Criss made his Broadway debut in January of 2012 as "J. Pierrepont Finch" in How To Succeed In Business Without Really Trying. With Criss at the helm, the revival made just under $4 million, which proved to be the most lucrative three weeks of its 11-month run. Criss is also the co-founder of New York City's first showtunes music festival, Elsie Fest.
Criss is best known for playing "Blaine Anderson" on FOX's global phenomenon Glee. He received an Emmy nomination in 2015 for Best Original Music and Lyrics for the song "This Time," which appeared in the episode titled "Dreams Come True." As a member of the cast, he was also nominated for two Screen Actors Guild® Awards. Criss' previous credits include Girl Most Likely, American Horror Story, Web Therapy and Eastwick.