Zach Galifianakis | Chip & Dale Baskets | Baskets on FX
Zach
Galifianakis
Chip Baskets / Dale Baskets / Executive Producer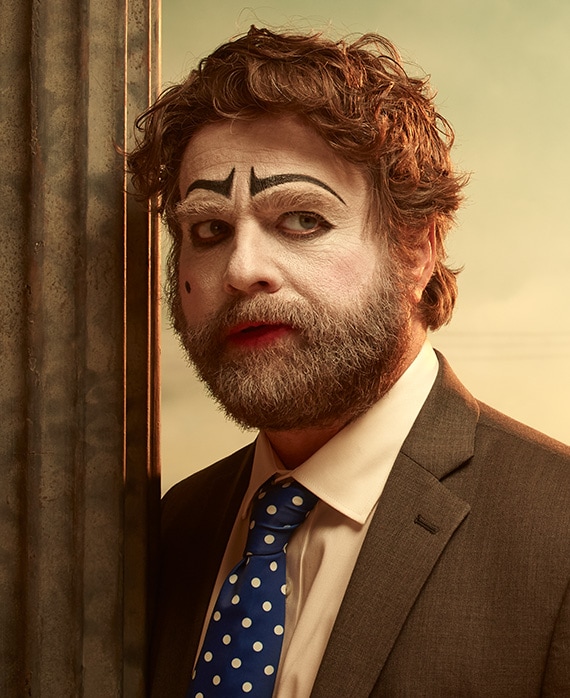 Zach Galifianakis stars as "Chip Baskets," a man who always wanted to be a great clown. But after striking out as a French clown and as a hospital clown, he's beginning to wonder whether there's even a place for clowns in society these days.
Galifianakis also plays "Dale Baskets," Chip's identical twin. Dale is an influencer and climate change skeptic who knows exactly how to make America great again.
After failing his last college course by one point at North Carolina State University, Zach Galifianakis moved to New York City. He got his start performing his brand of humor in the back of a hamburger joint in Times Square, graduating to doing stand-up at nightclubs and coffee houses in the city. While working as a busboy, he got his first acting job on the sitcom Boston Common for NBC. An eclectic career has followed.
Galifianakis starred in Greg Mottola's Keeping Up with the Joneses for 20th Century Fox alongside Jon Hamm, Isla Fisher and Gal Gadot, as well as Jared Hess's Masterminds with Kristen Wiig, Owen Wilson and Jason Sudeikis. He also starred in Justin Chadwick's Tulip Fever with Alicia Vikander and Dane DeHaan. Prior to that, Galifianakis starred opposite Michael Keaton, Naomi Watts, Emma Stone and Ed Norton in the 2015 Oscar® winner for Best Motion Picture of the Year, Birdman or (The Unexpected Virtue of Ignorance), directed by Alejandro González Iñárritu.
Galifianakis is best-known for The Hangover trilogy from the comedy mind of Todd Phillips for Warner Bros. In all three films, Galifianakis played "Alan," the hapless member of the wolfpack. At the time of its release, the first film became the highest grossing R-rated comedy of all time domestically. Before completing the trilogy, he starred alongside Will Ferrell in the Jay Roach-directed comedy The Campaign for Warner Bros. Galifianakis reteamed with director Todd Phillips for Due Date, the buddy comedy with Robert Downey Jr. In a departure from comedy, Galifianakis starred in Focus Features' It's Kind of a Funny Story, in which he played a patient in a mental hospital, bringing his warmth and humor to the character of "Bobby." Other film credits include Dinner for Schmucks opposite Steve Carell and Paul Rudd, the independent feature Youth in Revolt, the Jerry Bruckheimer produced live-action Disney feature G-Force which debuted at #1 and grossed over $290 million worldwide, as well as a cameo role in Jason Reitman's Academy Award® nominated film Up in the Air. He also appeared in the critically acclaimed feature Into the Wild from Paramount Vantage and director Sean Penn.
On the small screen, Galifianakis starred in the HBO comedy Bored to Death with Jason Schwartzman and Ted Danson. He also hosted the critically acclaimed VH1 talk show Late World with Zach, as well as wrote and starred in Dog Bites Man for Comedy Central. Galifianakis continues to host the Emmy®-winning internet talk show Between Two Ferns, for which he has interviewed guests including President Barack Obama, Brad Pitt, Steve Carell, Natalie Portman, Conan O'Brien and Justin Bieber.