Kurt Sutter as The Dark Mute in The Bastard Executioner | FX
Kurt
Sutter
The Dark Mute / Executive Producer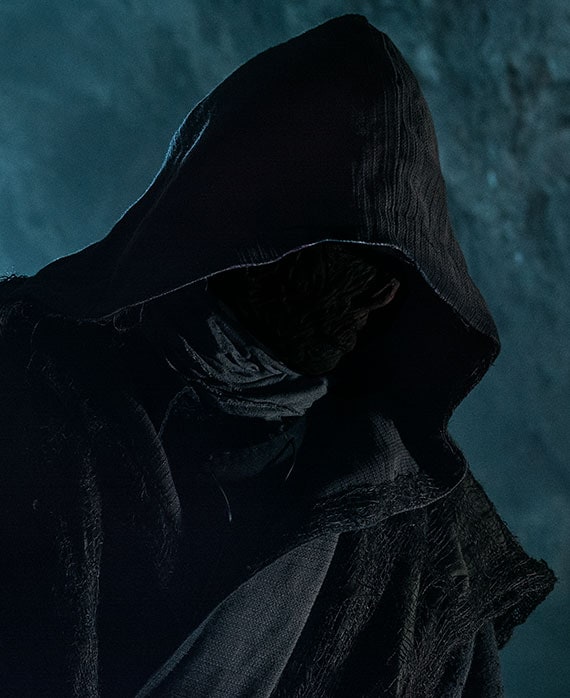 Kurt Sutter is the Executive Producer of The Bastard Executioner and also portrays "The Dark Mute." A former Templar knight of German descent, the Dark Mute is Annora's deadly protector. His cloaked visage shrouds a deep, hideous secret.
Raised in the suburbs of Central New Jersey, Sutter spent most of his childhood indoors, avoiding people, three feet from a TV screen. That's where he learned the essentials of storytelling and that extreme violence, if performed by animated, slightly absurd characters, could be fun and informative.
After graduating from Rutgers University with a BA in Mass Media & Film, Sutter spent several years as an actor in NYC, performing in off off-Broadway theatres, meatpacking warehouses, indiscriminate lofts and NYPD holding cells. His theatre training led to teaching and directing and in the mid-nineties he joined the faculty of The Gately-Poole Acting Studio on Theatre Row, teaching the Sanford Meisner Technique and directing productions at The Nat Horne Theatre.
In 1997, Sutter was awarded an MFA Fellowship to attend Northern Illinois University. In Chicago, Sutter's exposure to the dramatic masters — Strindberg, O'Neill, Genet — inspired him, and he began writing unproducible plays and cultivating ideas for the screen. After graduating with a Master of Fine Arts, Sutter moved to Los Angeles where he began writing. In 2001, he landed a gig on FX's The Shield. Starting as a staff writer on the first episode, he stayed on The Shield until the end of the series, finishing up the last two seasons as an Executive Producer.
In 2008, Sutter created the critically acclaimed drama series Sons of Anarchy. Its seven-year run has proven to be the most successful episodic series in the history of the network. Sutter follows up SOA with a new series, The Bastard Executioner, set in the 14th century and filmed on location in Wales.
Sutter recently ventured into reality programming with a documentary series on the Discovery Channel, Kurt Sutter's Outlaw Empires.
Along with his TV work, Sutter has feature projects in production and/or development with Cross Creek Pictures, TWC and Warner Bros.
Sutter and his wife, Katey Sagal, live in Los Angeles with their three children, Sarah, Jackson and Esmé.