Martin Freeman as Paul | Breeders on FX
Martin
Freeman
Paul / Co-Creator / Executive Producer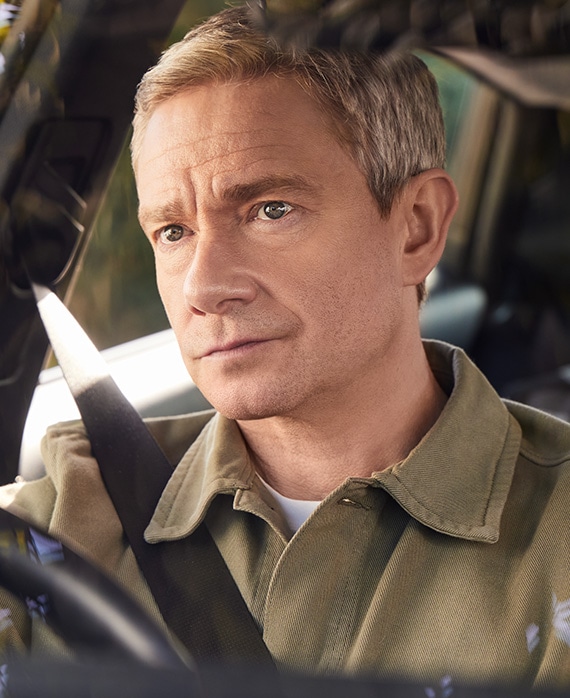 "Paul," portrayed by Martin Freeman, always thought he was a nice, easy-going guy. Then he had children and realized he had within him a seemingly bottomless well of rage. Now that his children are growing up, he finds his parenting style is increasingly out of step and his relationship with his kids increasingly out of his control.
Freeman is an Emmy® and BAFTA® award-winning actor with an illustrious career spanning film, television and stage. His versatility and ability to excel in his craft regardless of the genre have made him one of the industry's most revered talents.
Early this year, Freeman led the cast of the five-part BBC drama The Responder. Later this year, he is set to return as CIA agent "Everett Ross" in the Black Panther sequel, Black Panther: Wakanda Forever, opposite Letitia Wright, Daniel Kaluuya and Michaela Coel. Freeman will soon be seen in the limited series Angelyne, where he plays the owner of a printing company who partners with the infamous Angelyne (Emmy Rossum) on her early billboard campaigns. The series is directed by Lucy Tcherniak and is based on The Hollywood Reporter's investigative article about L.A.'s mysterious billboard icon.
In 2019, Freeman appeared in the two final plays in the Harold Pinter season Pinter at the Pinter, presented by The Jamie Lloyd Company. He starred opposite Danny Dyer in A Slight Ache and The Dumb Waiter. In summer 2019, he was also seen leading the cast of Jeff Pope's six-part ITV drama A Confession with Imelda Staunton, which has been acclaimed amongst critics and audiences alike. He also appeared in feature film Ode to Joy, from Modern Family director Jason Winer and The Colbert Report writer Max Werner. He was also seen in Yuval Adler's The Operative alongside Diane Kruger. The film premiered at the Berlin Film Festival earlier in 2019.
In 2018, Freeman was seen in Ryan Coogler's critically acclaimed sci-fi drama Black Panther, alongside Danai Gurira, Michael B. Jordan, Andy Serkis, Forest Whitaker and Lupita Nyong'o. He also appeared in the big screen adaptation of Jeremy Dyson and Andy Nyman's Ghost Stories. He also starred in the feature film adaptation of award-nominated short Cargo for Netflix, which starred Anthony Hayes, Caren Pistorius and Susie Porter. Prior to this, Freeman reprised his role of "Dr. John Watson" in the much anticipated fourth series of Sherlock on both BBC One in the U.K. and PBS in the U.S. On stage, he also starred in James Graham's comedy Labour of Love alongside Tamsin Greig at the Noël Coward Theatre.
In 2016, he was seen in Crackle's drama StartUp, alongside Adam Brody and Edi Gathegi. He also starred in Glenn Ficarra and John Requa's Whiskey Tango Foxtrot, the screen adaptation of Kim Barker's 2011 memoir The Taliban Shuffle: Strange Days in Afghanistan and Pakistan; Marvel's Captain America: Civil War; and on television screens in Sherlock's The Abominable Bride. In 2015, he starred in BBC Two's The Eichmann Show, which was part of the BBC's commemoration of the 70th anniversary of the liberation of Auschwitz-Birkenau.
In 2014, Freeman starred in FX's award-winning television adaptation of the Coen brothers' Fargo, for which he earned Golden Globe® and Emmy nominations for his role as "Lester Nygaard." That same year, he also won an Emmy for Best Supporting Actor in a Miniseries or Movie for his portrayal of "Dr. John Watson" in Sherlock. The show also saw him win Best Supporting Actor at the 2011 BAFTA Awards and receive an additional nomination in 2012. In December 2014, he reprised his role of "Bilbo Baggins" in Peter Jackson's The Hobbit: The Battle of The Five Armies. He also took to the stage to play the title role of Richard III at the Trafalgar Studios as part of the "Trafalgar Transformed" season.
One of Freeman's most notable television credits remains his role as "Tim Canterbury" in the hugely successful and much-loved series The Office, for which he also received BAFTA nominations in 2002 and 2004.
Freeman's film credits include starring opposite Joanna Page in the 2003 box office success Love Actually; Shaun of the Dead; Simon Pegg and Edgar Wright's cult hit Hot Fuzz in 2007 and The World's End in 2013; opposite Jessica Hynes in the 2007 mockumentary Confetti; and as "Arthur Dent" in The Hitchhiker's Guide to the Galaxy.
Freeman's stage credits include Clybourne Park and Kosher Harry at the Royal Court Theatre and Blue Eyes and Heels at the Soho Theatre.