Jesse Plemons as Ed Blumquist | Fargo Year 2 on FX
Jesse
Plemons
Ed Blumquist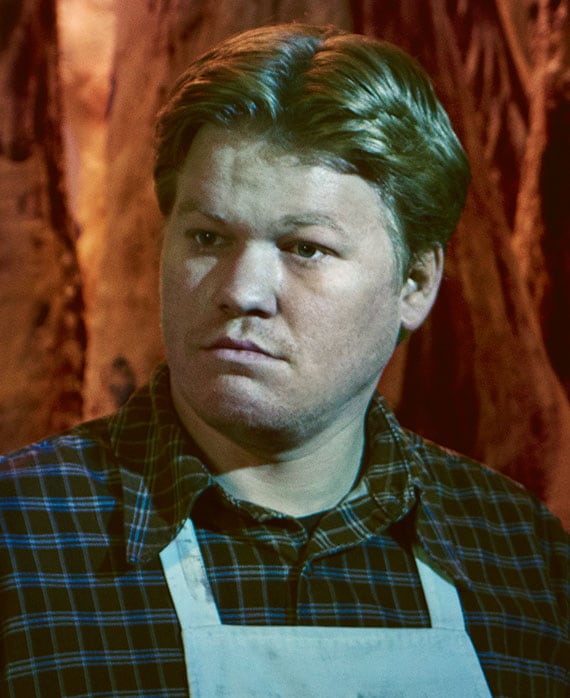 A butcher's assistant at Bud's Meats, Ed is a gentle giant. All he ever wanted out of life was to become his parents, and so he married Peggy and they settled into his parents' old house. Now Ed is working to buy the butcher shop and trying to talk Peggy into starting a family. Ed avoided serving in Vietnam due to a single kidney so his mettle has never really been tested. But that is about to change.
Born in Dallas, TX, Jesse Plemons received an early start as an actor, making his debut at age three in a Coca-Cola commercial. His Texas charm helped him land the role, and would shape the early part of his career all the way through to his breakout role in the Emmy® Award winning Friday Night Lights. Cast as "Landry Clarke," Plemons was a fan favorite on the show throughout its five seasons. 
Following the conclusion of Friday Night Lights, Plemons appeared in a number of films, including a role in the epic action film Battleship (2012), which was written specifically for him. Additionally, he was cast in the final season of the acclaimed AMC series Breaking Bad, in which he played "Todd Alquist" and was recognized by IGN as "2013's Best TV Villian." He also appeared opposite Philip Seymour Hoffman in Paul Thomas Anderson's critically lauded drama The Master (2012). 
Plemons also appeared in a supporting role in the Tommy Lee Jones-directed film The Homesman and the HBO miniseries Olive Kitteridge. Other credits include "Floyd Landis" in Stephen Frears' cycling film Icon and as "Kevin Weeks" in the Whitey Bulger film Black Mass, opposite Johnny Depp. He just finished filming St. James Place, Steven Spielberg's Cold War drama.