Shalom Brune-Franklin as Estella in Great Expectations | FX
Shalom
Brune-Franklin
Estella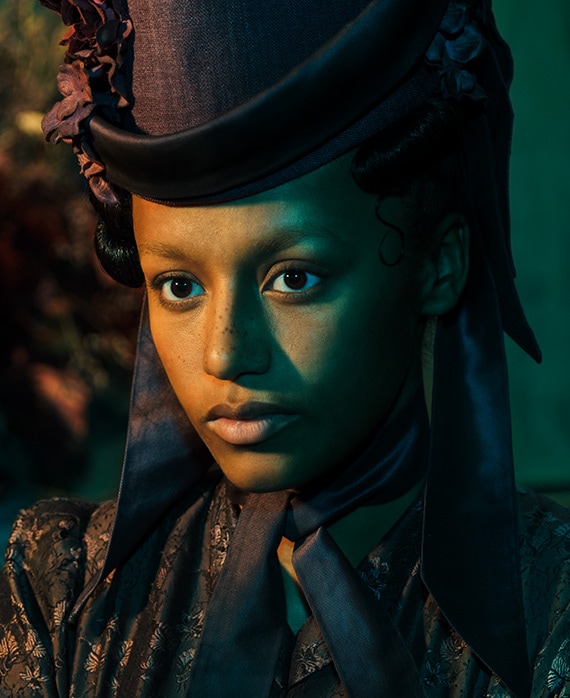 Estella, portrayed by Shalom Brune-Franklin, is the beautiful, cold and often cruel, adopted daughter of Miss Havisham. Taught that emotion makes you vulnerable, trained to inflict retribution on the opposite gender for the torment inflicted upon her guardian, Estella believes love is an impossible future. She is resigned to the fact that happiness belongs only to others.
Shalom Brune-Franklin is a young British/Australian actress who first came to the attention of the industry after training at the prestigious Western Australian Academy of Performing Arts, where she won the Chris Edmund Performing Arts Scholarship created by Hugh Jackman's foundation. The scholarship was set up to award the most-outstanding performer at the academy each year. She was also named one of the Casting Guild of Australia's 10 Rising Stars as well as being twice named a finalist for the Heath Ledger Scholarship.
Since then, Brune-Franklin has been carving out an impressive body of work with a variety of projects across both television and film. She was recently announced to play the role of "Mikaela" in the new series Dune: The Sisterhood opposite Emily Watson and Mark Strong.
In 2022, Brune-Franklin starred in The Tourist opposite Jamie Dornan and Danielle Macdonald. The twisty six-part miniseries created by Harry and Jack Williams received critical acclaim as one of the most successful dramas to launch last year for the BBC.
In 2021, Brune-Franklin starred in the series Love Me, an Australian drama series about love, loss and relationships. Brune-Franklin has reprised her role as "Ella" for the second season, which is currently filming in Australia. In the same year she starred in the critically acclaimed Line of Duty, joining the AC12 team alongside Kelly Macdonald, who also joined the cast of the record-breaking series.
2020 started with the 4-part political thriller Roadkill opposite Hugh Laurie and Helen McCrory, written by David Hare for the BBC. In 2019, Brune-Franklin starred as "Sister Igraine/Morgana" in the epic series Cursed opposite Katherine Langford, based on Frank Miller and Tom Wheeler's graphic novel of the same name, which reframes the Arthurian legends through the eyes of a young Fey woman. 
Brune-Franklin joined the cast of hugely popular BBC series Our Girl in 2017. She played the role of the new private "Maisie Richards" opposite Michelle Keegan. She also starred in Peter Kominsky's series The State, which dramatizes the experiences of four young British Muslim's who fly to Syria to join the Islamic State.
In Australia, other projects Brune-Franklin has starred in also include Doctor Doctor as "Aoife" and the 2019 series Bad Mothers as "Bindy."