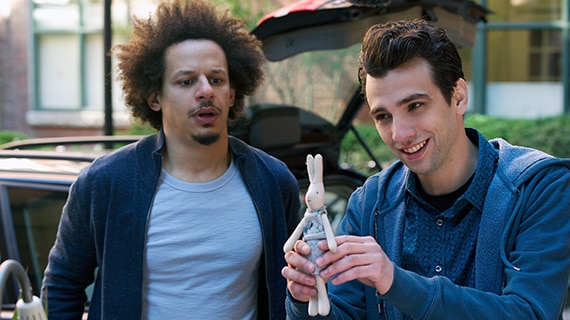 About the Show
Man Seeking Woman is back with an all-new, surreal season about the life-and-death stakes of dating.
"Josh Greenberg" (Jay Baruchel) has battled a lot in his quest for love (flesh-eating monsters, homicidal aliens), but this season will see him face his toughest challenge yet: a serious, long-term relationship. Together, Josh and Lucy (Katie Findlay) will take on anniversaries, merging friend groups, ruthless drug lords, friendly forest creatures, student loans and even God himself. In order to make it, they'll have to work together and learn to live as a team.
The series also stars Eric Andre (The Eric Andre Show) as "Mike," Josh's confident and daring best friend; and Britt Lower (Unforgettable) as "Liz," Josh's intimidating older sister.
Man Seeking Woman is based on Simon Rich's book of short stories, The Last Girlfriend on Earth. Rich created the 10-episode scripted comedy and also serves as Executive Producer/Showrunner. Jonathan Krisel, Andrew Singer and Lorne Michaels, and Broadway Video also serve as Executive Producers. Man Seeking Woman is an original series produced by FX Productions.