Keri Russell as Elizabeth Jennings | The Americans | FX
Keri
Russell
Elizabeth Jennings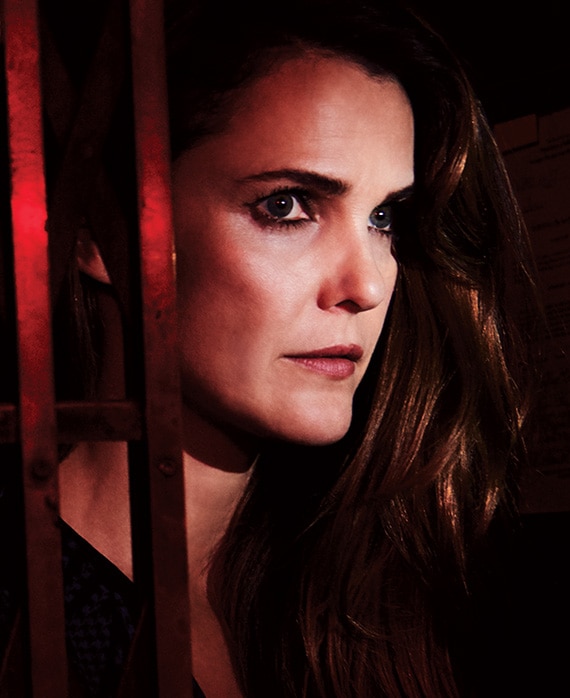 Keri Russell stars as "Elizabeth Jennings" in The Americans. As one of the KGB's top "illegals" – undercover agents living in America and posing as American citizens – Elizabeth is working harder than ever to help her country by whatever means necessary. She's also taken on the task of training her daughter, Paige, to be a second-generation illegal. And as a crucial arms summit approaches and fierce struggles back home threaten everything she's strived for, Elizabeth's loyalties to her country and family may finally tear her apart.
A familiar face to audiences worldwide, Keri Russell has starred in a number of major motion pictures, independent films and television shows.
For The Americans, Russell has received four Critics' Choice Award nominations for Best Actress in a Drama Series, one Golden Globe® nomination for Best Performance by an Actress in a Television Series – Drama, and two Emmy® nominations for Lead Actress in a Drama Series.
On the big screen, Russell starred alongside Matthew McConaughey in The Free State of Jones for director Gary Ross. Prior to that she was seen in the hit summer film Dawn of the Planet of the Apes, which reunited her with director Matt Reeves, who created Felicity with J.J. Abrams.
Russell's other film credits include Austenland, Dark Skies, August Rush, The Girl in the Park, Mission Impossible III, The Upside of Anger, We Were Soldiers, Mad About Mambo, Dead Man's Curve, Eight Days A Week, Leaves of Grass, Goats, Bedtime Stories with Adam Sandler, Extraordinary Measures with Harrison Ford, and of course, the romantic film Waitress, for which she received rave reviews.
Russell first garnered attention when she starred in the title role of the hit television series Felicity from J.J. Abrams. Just four months after the show's acclaimed premiere on the WB, she was honored with a Golden Globe® Award for Best Performance by an Actress in a Drama Series.
Some of Russell's other television credits include the miniseries Into the West, executive produced by Steven Spielberg, the Hallmark Hall of Fame Presentation The Magic of Ordinary Days, Running Wilde with Will Arnett and The All New Mickey Mouse Club.
In 2005, Russell made her Off-Broadway stage debut in Neil LaBute's play, Fat Pig.