Ebon Moss-Bachrach as "Richard 'Richie' Jerimovich" | The Bear on FX
Ebon
Moss-Bachrach
Richard "Richie" Jerimovich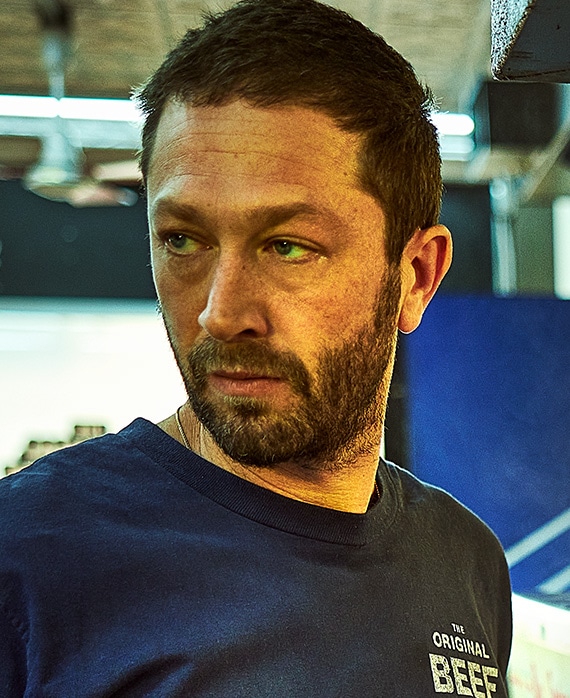 Ebon Moss-Bachrach stars as "Richard 'Richie' Jerimovich." Abrasive yet undeniably charming, Richie was Michael's best friend and barnacle to the Berzatto family. As manager of The Original Beef of Chicagoland, he clings to tradition.
Moss-Bachrach has acted in a wide range of film, television and theater productions. He starred as series regular "Chris McQueen" in the critically acclaimed AMC series NOS4A2 for two seasons. He was also seen in a large recurring role on the CBS Studios drama Interrogation and in a supporting role in the indie film Tesla, directed by Michael Almereyda and starring Ethan Hawke.
Moss-Bachrach starred as "Micro/Lieberman" in season one of the Netflix/Marvel series Punisher and was a series regular, "Desi," in the final four seasons of HBO's Girls. Previous TV roles include The Last Ship, Believe, Damages and the HBO miniseries John Adams, among others.
Moss-Bachrach's film credits include Dolly Wells' indie Good Posture, which premiered at the 2019 Tribeca Film Festival, and the starring role opposite Elisabeth Moss in Richard Shepard's short film Tokyo Project, which aired on HBO. His prior films include Blow the Man Down, We'll Never Have Paris, Lola Versus, Higher Ground, Evening, The Royal Tenenbaums, American Splendor, Mona Lisa Smile, Road, for which he received the LA Film Festival acting award, and more.
On the stage, Moss-Bachrach starred in Lost Girls at MCC Theater, Verite at LCT3, Austin Pendleton's Three Sisters at CSC, The Glass Menagerie opposite Amy Irving and directed by Harris Yulin, Chris Shinn's On the Mountain, Fifth of July, 36 Views, Daisy Foote's When They Speak of Rita as directed by Horton Foote, and more.
Born in Amherst, Massachusetts, Moss-Bachrach is a graduate of Columbia University and resides in New York with his wife and two daughters.