Jeff & Jackie Marcus Schaffer
Jeff & Jackie
Marcus Schaffer
Co-creators / Executive Producers / Directors / Writers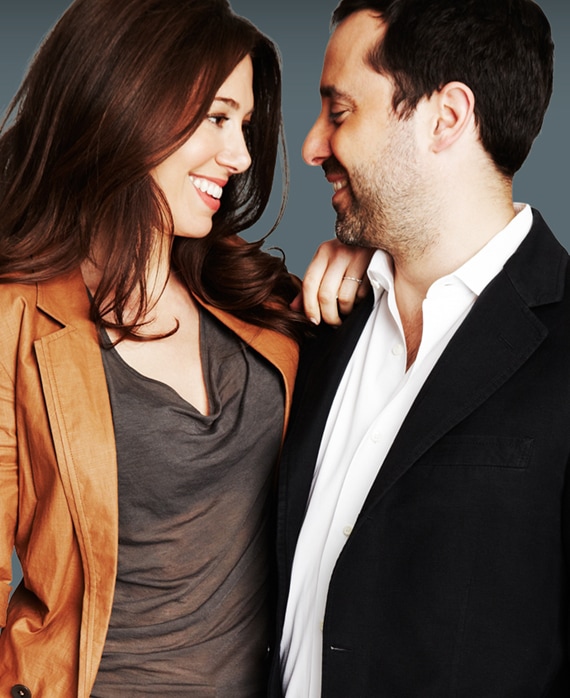 Jeff Schaffer doesn't want to talk about all the work he's done. Don't get him wrong, he wants you to know about it. He wants the adulation like a dog wants to stick his nose in your aunt's crotch. But he doesn't want to tell you himself. That's like paying for sex, which Jeff would also like to take this opportunity to tell you he rarely does. And never in this country.
He would love you to know that he's spent many years working with Alec Berg and his TV highlights include Late Night with Conan O'Brien and four years of writing and producing Seinfeld, which they eventually helped run until the show was cruelly cancelled.
He's dying to hear how much you love his work on Curb Your Enthusiasm. He, Alec Berg and Dave Mandel have written the last four seasons with Larry and for the last three seasons they've been executive producers and directed half the season's episodes. They were even nominated for an Emmy® and a DGA award this year. But he can't tell you any of this. How cheesy do you think he is?
He's also been busy working on movies that he would love to be commended for, including Eurotrip (which was his first feature directing credit) and more recently, traveling around the world with Sacha Baron Cohen writing and producing Bruno and The Dictator.
These are the highlights. Lowlights are available upon request.
And now, thanks to his wife and creative partner Jackie, he has finally found a show that combines his greatest passions - football, spending time with his wife, and offending pretty much everyone. Working with her and this amazing cast and crew has been one of the craziest, and most fun things he's ever done.
Though his schedule has been hectic, Jeff has still found the time to regret this bio. He thinks the third person angle is bullshit and he sounds a bit full of himself.
Jackie Marcus Schaffer's parents wanted her to become a lawyer. And they were confused when after graduating from Georgetown University, she worked as an assistant at New Line Cinema.
They were mildly amused when she was hired as a Creative Executive at Warner Bros. in Theatrical Production.
They were less than thrilled when she became Vice President of Development and Production at Working Title Films during the making of High Fidelity, Bridget Jones' Diary and Oh Brother Where Art Thou?
They hoped it was a phase when as a producer, she acquired and developed feature films including Old School, Eurotrip, Disturbia and Up In the Air - as well as television pilots for CBS and FOX.
They have no idea that Jackie's husband encouraged her to write a television pilot when she thought his devotion to four separate fantasy football leagues was a good idea for a show.
In fact, her parents do not know that Jeff is a writer/ director and her creative partner on The League. They think Jeff is a doctor.
Jackie hasn't had the heart to tell them where she's been while working long hours on The League. They think she's finally taking her LSATs - so please don't say anything.