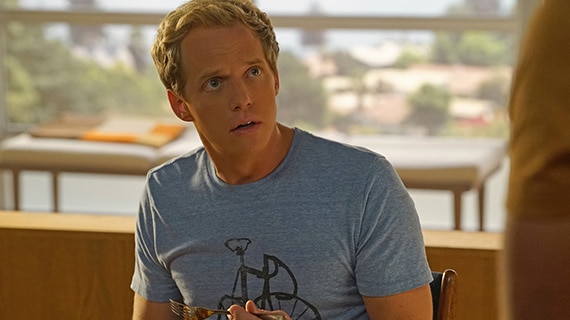 About the Show
You're the Worst is an original, critically-acclaimed comedy series from Stephen Falk that takes a modern look at love and happiness told through the eyes of two people who haven't been very successful with either. It's the story of Gretchen and Jimmy; two lost souls who experience fear, heartbreak, romance, sex, food, Sunday Funday, and friendship in Los Angeles only to find that sometimes the worst people make the best partners.


The narcissistic, brash, and self-destructive "Jimmy Shive-Overly" (Chris Geere) thinks all relationships are doomed. The cynical, people-pleasing, and stubborn "Gretchen Culter" (Aya Cash) knows that relationships aren't for her. After a whirlwind courtship, and a very rough post-cohabitation period of dealing with Gretchen's clinical depression, Jimmy and Gretchen try to keep the good times rolling while confronting the terrifying fact that relationships grow and deepen even if the two individuals don't. For Jimmy and Gretchen, the f-word is "family."


Rounding out the cast is Desmin Borges who plays "Edgar Quintero," Jimmy's once homeless war veteran roommate who is struggling to manage his PTSD while forging a post-combat life. Kether Donohue plays "Lindsay Jillian," Gretchen's best friend and former partner in crime who's exploring her identity after her loveless marriage was resurrected by a surprise pregnancy.


You're the Worst is produced by FX Productions.