Jessie Buckley as Oraetta Mayflower | Fargo on FX
Jessie
Buckley
Oraetta Mayflower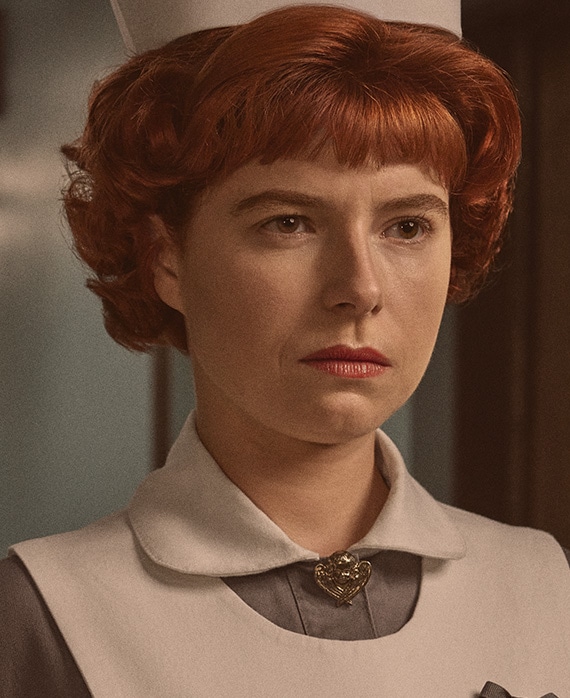 Nurse "Oraetta Mayflower," portrayed by Jessie Buckley, is a Minnesota native with a folksy accent and sunny disposition. A self-described "Angel of Mercy," Oraetta believes that her purpose on this "earthly realm" is to bring peace and comfort to the patients in her care.
Irish-born Royal Academy of Dramatic Art (RADA) graduate Buckley had her first starring role in Michael Pearce's BAFTA-nominated Beast alongside Johnny Flynn, for which she won a British Independent Film Award ("Most Promising Newcomer") and a London Critics' Circle Award ("Best British/Irish Actress"). She was selected as one of BAFTA's Breakthrough Brits and Screen International's "Stars of Tomorrow."
Buckley stars in Charlie Kaufman's film I'm Thinking of Ending Things alongside Jesse Plemons, slated for a September 2020 release on Netflix. She will star in Maggie Gyllenhaal's directorial debut The Lost Daughter alongside Olivia Colman. Buckley will also star alongside Josh O'Connor in a new adaptation of Romeo and Juliet at the National Theatre in London, directed by Simon Godwin. The play, which has been delayed due to COVID-19, will take place in present day Italy.
Buckley starred in Tom Harper's Wild Rose alongside Julie Walters and Sophie Okonedo, for which she earned a British Independent Film Award nomination ("Best Actress") and won a BAFTA Scotland Award ("Best Actress"). She was also nominated for BAFTA's EE Rising Star Award in 2019 and was the only performer at that year's awards ceremony. In 2019, Buckley also starred in Rupert Goold's Judy with Renée Zellweger and appeared alongside Emily Watson and Jared Harris in HBO/Sky Atlantic's Emmy®-winning series Chernobyl.
Other film and television credits include The Voyage of Doctor Dolittle, Ironbark, the role of "Princess Marya" in the BBC adaptation of Tolstoy's novel War and Peace and the historic drama series Taboo opposite Tom Hardy. In 2018, she starred in the BBC One drama series The Last Post, written by Peter Moffat, and appeared in the BBC One adaptation of The Woman in White, Wilkie Collins' classic psychological thriller adapted for television by Fiona Seres.
Buckley's theater credits include two productions simultaneously as part of the Kenneth Branagh Theatre Company's inaugural season: The Winter's Tale, in which she starred as "Perdita," and Harlequinade, where she led as "Muriel." Buckley starred as "Miranda" in Jeremy Herrin's The Tempest opposite Roger Allam, which was later released as a film. Additional theater credits include A Little Night Music at the Menier Chocolate Factory, "Princess Katherine" opposite Jude Law in Henry V and "Constanze" in Amadeus alongside Joshua McGuire and Rupert Everett at the Chichester Festival Theatre.