Martin Freeman as Lester Nygaard | Fargo Year 1 on FX
Martin
Freeman
Lester Nygaard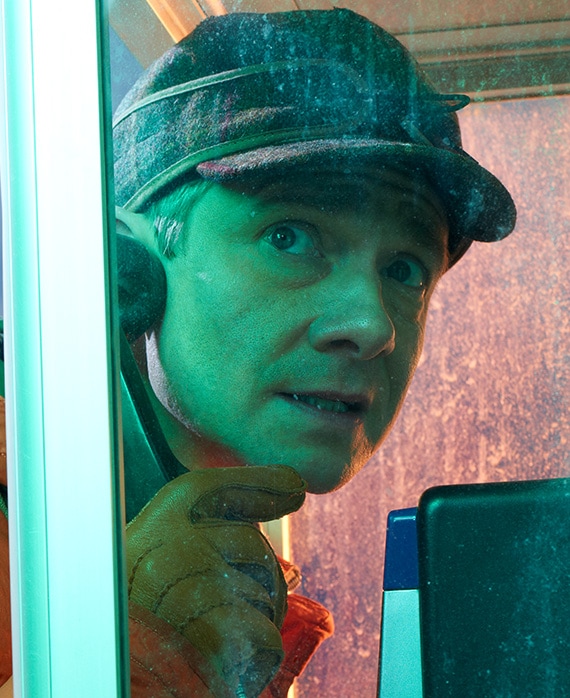 As an insurance salesman, Lester is good-natured and earnest, but has spent his life slowly being brow-beaten by the world around him. An emasculating wife, a successful brother, and a humiliating experience with an old high school classmate finally push Lester over the edge. With a little inspiration from a stranger by the name of Lorne Malvo, Lester embraces a darker side of himself.
Martin Freeman has most recently starred in the third series of the hugely celebrated BBC drama Sherlock, which also aired in the U.S. on PBS, in which Freeman plays the role of "Dr. John Watson" opposite Benedict Cumberbatch. He was also recently seen reprising his role as "Bilbo Baggins" in Peter Jackson's hugely celebrated The Hobbit: The Desolation of Smaug. The first film in the Hobbit trilogy, The Hobbit: An Unexpected Journey, opened to rave reviews and the second film continued the success by breaking previous box office records in both the U.K. and U.S. Freeman will return later this year in the third and final film, The Hobbit: There and Back Again.
For his role in Sherlock, Freeman earned an Emmy® Award nomination for Outstanding Supporting Actor, won the 2011 BAFTA® Award for Best Supporting Actor and garnered another nomination the following year. One of Freeman's most notable television credits remains his role of "Tim Canterbury" in the hugely successful BBC series The Office, for which he received BAFTA nominations in 2002 and once again in 2004. 
Freeman's numerous film credits include the 2003 box office success Love Actually, the spoof horror comedy Shaun of the Dead, and he reunited with writing duo Simon Pegg and Edgar Wright on the cult hit Hot Fuzz and The World's End. He starred in the 2007 mockumentary-style film Confetti, which follows three couples as they battle it out to win the coveted title of "Most Original Wedding of the Year." One of Freeman's most well-known film roles is "Arthur Dent" in The Hitchhiker's Guide to the Galaxy. His additional film credits include Nativity!, and Aardman Animation's The Pirates! In an Adventure with Scientists! 
On stage, Freeman's credits include the hugely successful production of Clybourne Park at the Royal Court Theatre, directed by Dominic Cooke; Kathy Burke's Kosher Harry at the Royal Court; and Blue Eyes and Heels by Toby Whithouse at Soho Theatre for director Jonathan Lloyd.