Ewan McGregor as Emmit & Ray Stussy | Fargo on FX
Ewan
McGregor
Emmit & Ray Stussy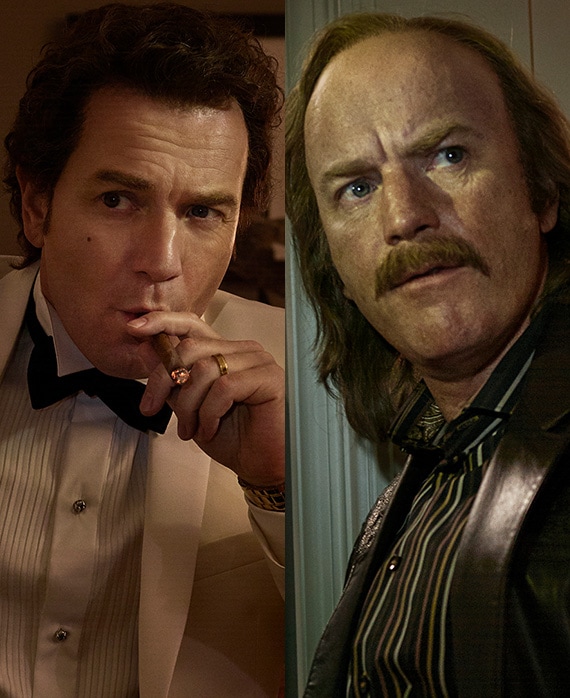 Ewan McGregor plays two leading roles in FX's Emmy®-winning drama, Fargo. He will star as brothers "Emmit" and "Ray Stussy" in the third installment of the anthology series.
"Emmit Stussy," the slightly older of the Stussy brothers, is the "Parking Lot King of Minnesota." A handsome, self-made real estate mogul and family man, Emmit sees himself as a real American success story.
"Ray Stussy," the slightly younger brother, is balding and pot-bellied, the kind of guy who peaked in high school. Now a parole officer, Ray has a huge chip on his shoulder about the hand he's been dealt, and he blames his brother for his misfortunes.
Often hailed as one of the finest actors of his generation, Ewan McGregor consistently captivates audiences with a diverse line-up of roles across a multitude of genres, styles and scope.
Most recently, McGregor can be seen in T2 where he reprises his role "Renton," opposite Jonny Lee Miller, Ewen Bremner and Robert Carlyle. Sony released T2 in the U.K. January 28, 2017 and on March 17, 2017 in the U.S. Additionally, he can be seen lending his voice to the role of "Lumiere" in Disney's live-action adaption of Beauty and the Beast which was also released in March 2017.
McGregor made his directorial debut with American Pastoral, based on the Pulitzer Prize-winning novel of the same name. He starred in the film opposite Jennifer Connelly and Dakota Fanning. Lionsgate released the film October 21, 2016.
His more recent film roles include Susanna White's political thriller Our Kind of Traitor, Rodrigo Garcia's Last Days in the Desert, Don Cheadle's Miles Ahead, Gavin O'Connor's Jane Got a Gun, Julius Avery's Son of a Gun, David Koepp's Mortdecai, J.A. Bayona's The Impossible, Mike Mills' Beginners, and John Wells' film adaptation of Tracy Letts' Pulitzer and Tony®-winning play August: Osage County. In addition, McGregor garnered a Best Actor Golden Globe® nomination for his performance in Salmon Fishing in the Yemen.
McGregor marked his Broadway debut as "Henry" in Tom Stoppard's Tony Award®-winning play The Real Thing, directed by Sam Gold. The play opened on October 30, 2014 and ran until January 4, 2015 at the American Airlines Theatre in New York.
From his breakthrough role as the heroin-addicted "Mark Renton" in Trainspotting, to the legendary "Obi-Wan Kenobi" in Star Wars Episode I: The Phanton Menace, to starring as "Christian" in the Oscar® and BAFTA Award-winning musical Moulin Rouge, McGregor's career has been highlighted by a continuous string of bold performances. His diverse film credits include Steven Soderbergh's Haywire, Roman Polanski's The Ghost Writer, Amelia, Jack the Giant Slayer, Ron Howard's Angels and Demons, I Love You Phillip Morris opposite Jim Carrey, Deception opposite Michelle Williams and Hugh Jackman, Woody Allen's Cassandra's Dream, the biography drama Miss Potter, Scenes of a Sexual Nature, Marc Forster's thriller Stay, Michael Bay's The Island, Star Wars Episode II: Attack of the Clones, Star Wars: Episode III: Revenge of the Sith, the animated films Robots and Valiant, Tim Burton's Big Fish, Young Adam, for which he received a London Film Critics Circle Awards nomination, Down With Love opposite Renee Zellweger, Ridley Scott's historical drama Black Hawk Down, Rogue Trader, Velvet Goldmine, and the Golden Globe-winning film Little Voice.
He received critical acclaim for his role in Danny Boyle's A Life Less Ordinary, for which he won the Best British Actor Award for the third time running at the 1997 Empire Movie Awards. For his role in the BAFTA Award-winning Shallow Grave, McGregor was honored with the Hitchcock D'Argent Best Actor Award and a nomination for Best Actor at the BAFTA Scotland Awards. On television, McGregor won an Emmy Award for Outstanding Guest Actor for his episodic role in the NBC television series ER.
McGregor serves as a Goodwill Ambassador for UNICEF, a non-profit organization dedicated to providing long-term humanitarian and developmental assistance to children and mothers in developing countries.
McGregor was born in Perth, Scotland and currently resides in Los Angeles.