Angus Sampson as Bear Gerhardt | Fargo Year 2 on FX
Angus
Sampson
Bear Gerhardt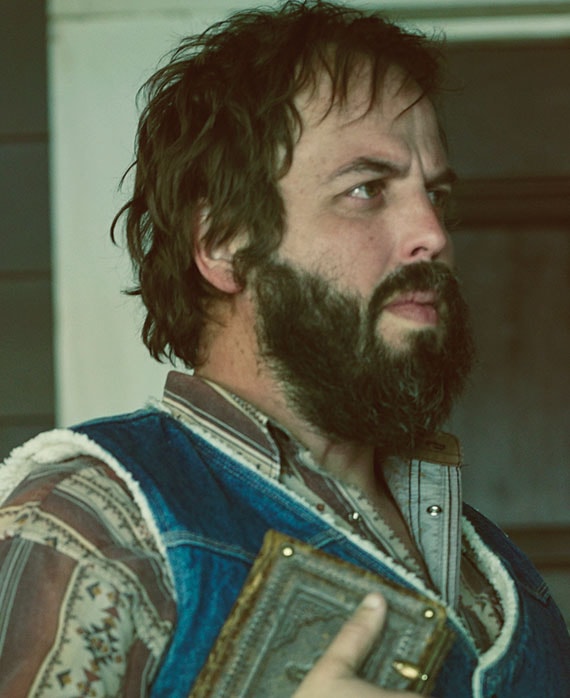 The middle son of Floyd and Otto Gerhardt, Bear is a quiet lumberjack of a man. He has raised his son Charlie, who suffers from cerebral palsy, without the help of the boy's mother. Though his older brother Dodd thinks Bear is a momma's boy, no one should doubt the ferocity with which he will fight to protect what's his.
One of Australia's most distinctive and diverse performers, Angus Sampson's extensive body of work spans film, stage, television, broadcasting, journalism and copywriting. 
Sampson portrayed "Tucker," alongside Leigh Whannell and Lin Shaye, in Insidious and Insidious: Chapter 2, directed by James Wan. Other feature film acting roles include Spike Jonze's Where the Wild Things Are; a voice performance in Zack Snyder's Legend of the Guardians: The Owls of Ga'Hoole; Alister Grierson's World War II drama Kokoda: 39th Battalion; Jonathan Liebesman's Darkness Falls; George Miller's long-awaited Mad Max: Fury Road; Wayne Hope's upcoming Now Add Honey, with Portia de Rossi; and the Cairnes Brothers' horror comedy 100 Bloody Acres, for which Sampson received Australian Film Institute and Australian Film Critics Association Award nominations as Best Supporting Actor. 
Sampson produced and starred in the comedy The Mule, which he also co-directed as well as, with Leigh Whannell, co-wrote. The feature's cast also included Hugo Weaving, Georgina Haig and John Noble. Sampson wrote, directed and starred in the short film The Last Supper and directed the documentary short It's Him... Terry Lim!