Kirsten Dunst as Peggy Blumquist | Fargo Year 1 on FX
Kirsten
Dunst
Peggy Blumquist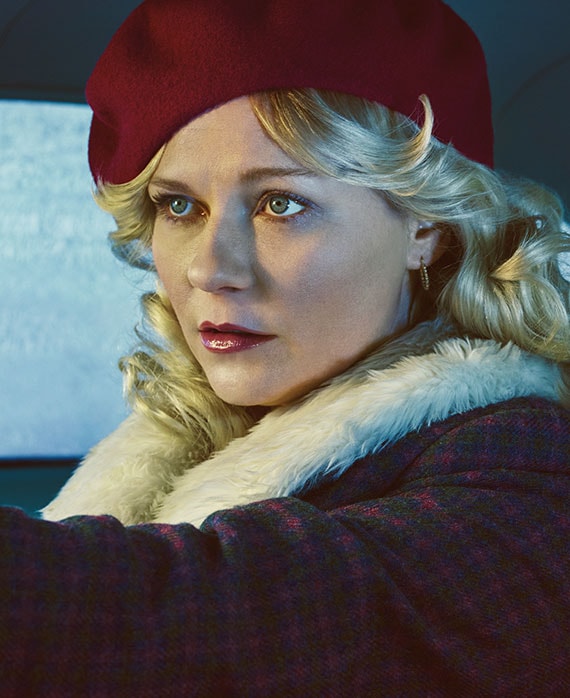 "Peggy," portrayed by Kirsten Dunst, is a small town beautician in Luverne, MN, but inside she knows she could be so much more. She's on a quest, really, to become the best Peggy Blumquist she can be, which means not just being a wife and one day mother. Her husband, Ed, is a traditional man with timeless goals (buy the shop, raise a family), but Peggy can't help but think there's more to life than just Luverne, Minnesota.
Kirsten Dunst can be seen in Warner Bros.' Midnight Special opposite Michael Shannon and Joel Edgerton, directed by Jeff Nichols. 
Dunst's additional film credits include the following: The Two Faces of January opposite Viggo Mortensen and Oscar Isaac, directed by Hossein Amini; Anchorman 2: The Legend Continues; Upside Down with Jim Sturgess, directed by Juan Diego Solanas; Walter Salles' film adaptation of the classic Jack Kerouac novel, On The Road, opposite Sam Riley, Garrett Hedlund and Kristen Stewart; Bachelorette, directed by Leslye Headland, opposite Isla Fisher and Lizzy Caplan; Melancholia, directed by Lars Von Trier, opposite Charlotte Rampling and Charlotte Gainsbourg, for which Dunst earned the Best Actress prize at the 2011 Cannes Film Festival and was named Best Actress by the National Society of Film Critics; Andrew Jarecki's All Good Things with Ryan Gosling; Marie Antoinette, directed by Sofia Coppola and also starring Jason Schwartzman; Eternal Sunshine of the Spotless Mind, written by Charlie Kauffman, directed by Michel Gondry and starring Jim Carrey, Kate Winslet and Mark Ruffalo; Sam Raimi's Spider-Man trilogy, opposite Tobey Maguire; How To Lose Friends and Alienate People with Simon Pegg; Elizabethtown, written and directed by Cameron Crowe, opposite Orlando Bloom; Wimbledon with Paul Bettany; Mike Newell's Mona Lisa Smile, opposite Julia Roberts, Julia Stiles and Maggie Gyllenhaal; the independent film, Levity, co-starring Billy Bob Thornton and Morgan Freeman; The Cat's Meow, a semi-biographical murder-mystery in which, directed by Peter Bogdanavich, Dunst portrayed Marion Davies; Bring It On, which opened number-one at the box office; Sofia Coppola's critically acclaimed The Virgin Suicides, with James Woods and Kathleen Turner; Crazy/Beautiful, directed by John Stockwell; Drop Dead Gorgeous with Ellen Barkin and Kirstie Alley; Dick with Michelle Williams; Little Women with Susan Sarandon and Winona Ryder; Jumanji with Robin Williams; Mother Night with Nick Nolte; Barry Levinson's Wag the Dog, starring Dustin Hoffman and Robert De Niro; Neil Jordan's Interview with the Vampire, with Tom Cruise and Brad Pitt, for which she received a Golden Globe® nomination, among other accolades; and Small Soldiers with the late Phil Hartman. 
Dunst got her showbiz start at the age of three, when she began filming television commercials. With more than 50 commercials under her belt, she made the jump to the big screen in 1989 in Woody Allen's New York Stories. 
Dunst's career has not been limited to the big screen. In addition to a critically acclaimed recurring role on the hit television drama ER, for which she was honored by The Hollywood Reporter with a "Best Young Star" award, she starred in Showtime's The Outer Limits and Devil's Arithmetic, produced by Dustin Hoffman and Mimi Rogers; the telefilm Ruby Ridge: An American Tragedy; the Wonderful World of Disney's Tower of Terror; and Lifetime Television's 15 and Pregnant. 
Exploring work behind the camera, as well, Dunst made her directorial debut with the short film Welcome, starring Winona Ryder, which screened at the 2008 Sundance Film Festival, and recently wrapped production on the short film Bastard, which she directed and co-wrote. The film, which stars Juno Temple and Brian Geraghty, was accepted into the 2010 Tribeca and Cannes Film Festivals.