Judy Greer as Cheryl/Carol Tunt | Archer on FXX
Judy
Greer
Cheryl/Carol Tunt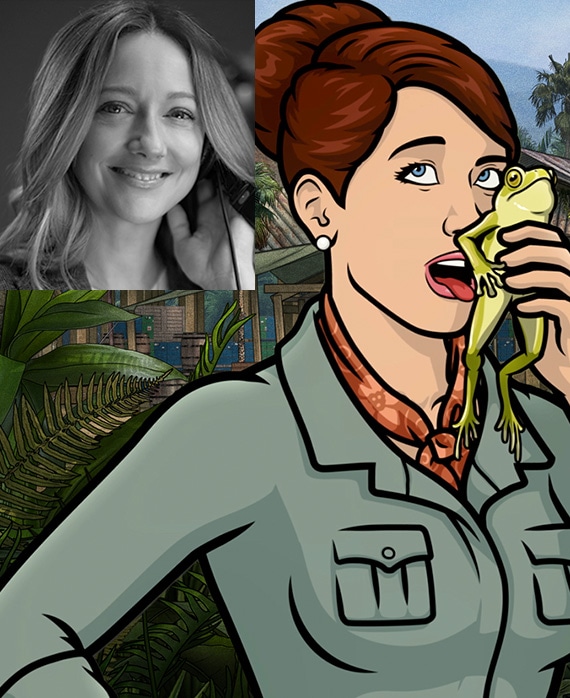 Cheryl/Carol Tunt, voiced by Judy Greer, isn't getting the respect she feels she deserves, so she begins a journey of self-discovery. It turns out she loves being rich and making things explode, and with a purse filled with C4 and good ideas, maybe now is the time the rest of the gang will take her seriously.
Greer's career in both film and television has been extremely prolific, with her appearing in nearly 200 roles to date including the Blumhouse reboot of Halloween, directed by David Gordon Green, starring alongside Jamie Lee Curtis. The sequel, Halloween Kills, was released at the end of last year with Greer once again starring alongside Curtis. Last summer, she shot the Disney+ feature Hollywood Stargirl with Uma Thurman and Grace VanderWaal for director Julia Hart. Greer most recently filmed HBO's limited series White House Plumbers opposite Woody Harrelson and Justin Theroux for director David Mandel, as well as the independent feature Mabel and the Blumhouse/NBC limited series The Thing About Pam, which premiered on March 8. Greer will be starring in the lead role in Reboot from Steve Levitan for Hulu/20th Television with Keegan Michael Key, Johnny Knoxville and Paul Reiser 
Greer can be seen in the independent feature film Driven opposite Jason Sudeikis and Lee Pace, Richard Linklater's Where'd You Go Bernadette opposite Cate Blanchett and Buffaloed opposite Zoey Deutch and Jermaine Fowler. Additional feature credits include Universal's Jurassic World, MGM's reboot of the Brian DePalma classic Carrie, Fox Searchlight's Academy Award® winning The Descendants directed by Alexander Payne and starring George Clooney, Jamie Babbit's Addicted to Fresno, Barry Blaustein's Peep World and Jason Reitman's Men, Women & Children.
Recently, Greer starred opposite Jim Carrey and Catherine Keener on the Showtime series Kidding. For the past 10 years, she has voiced the role of "Cheryl/Carol" on the FXX Emmy®-winning animated comedy Archer and now also voices the lead role of "Luna" on the PBS kids show Let's Go Luna. Previously, Greer starred in the FX comedy series Married opposite Nat Faxon and has recurred on Netflix's Arrested Development, Hulu's Casual, CBS' Two and a Half Men and Showtime's Masters of Sex.
Other TV credits include FOX's American Dad, ABC's Modern Family, IFC's Portlandia, CBS' The Big Bang Theory and How I Met Your Mother, FX's It's Always Sunny In Philadelphia, Netflix's BoJack Horseman and Lady Dynamite, Showtime's Californication and USA's Royal Pains. In 2012, Greer made her Broadway debut opposite Katie Holmes in Dead Accounts and in 2014, released her first book, I Don't Know What You Know Me From: Confessions of a Co-Star. 
In 2018, Greer made her feature film directorial debut with A Happening of Monumental Proportions. Produced by Artists First and Depth of Field, AHOMP stars Common, Bradley Whiteford, Allison Janney, Jennifer Garner, Anders Holm, Katie Holmes, Rob Riggle and Storm Reid. The film premiered at the Bentonville Film Festival in May 2017 where it won the Audience Spotlight award. Previously, Greer directed an AOL original short that documents the practice of Transcendental Meditation and how it has changed the lives of teachers and students who learned the practice from the David Lynch Foundation.