Lizzy Caplan as Libby Epstein | Fleishman Is In Trouble on FX
Lizzy
Caplan
Libby Epstein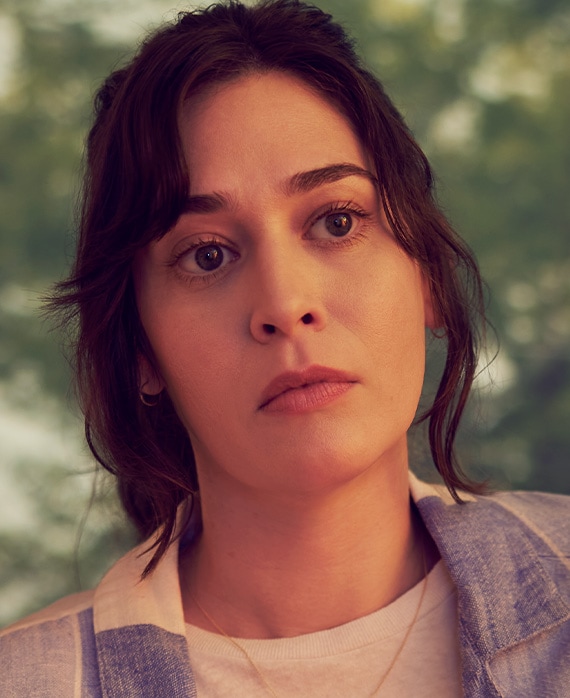 Lizzy Caplan portrays Libby Epstein. Libby and Toby were fast friends when they met on a semester abroad in Israel and stayed close when they returned to New York. But since Toby married Rachel, they've grown apart. Rachel didn't much like Libby and Libby, a writer at a men's magazine, felt that she couldn't compete with Rachel's animosity. All these years later, Toby gets back in touch with Libby as he makes his way through his wild new post-divorce world. Libby, now a stay-at-home-mother defined more by her boredom than anything else, becomes fascinated with Toby's new life and begins to spend more and more time with him. How is it that just as she was feeling so old, someone her own age was feeling so young? Libby, desperate to discover what happened to Rachel, feels something changing in her — a drift she can only stop if she can finally figure out whether the life she's set up for herself is the one she wants.
Caplan is currently in production on Fatal Attraction, the Paramount+ reimagination of the 1980s film, in which she stars as "Alex Forrest" (played by Glenn Close in the film) opposite Joshua Jackson. 
Previously, Caplan starred opposite Michael Sheen in Showtime's critically acclaimed drama series about the lives of the sex researchers William Masters and Virginia Johnson, Masters of Sex, for which she was nominated for an Emmy® and a Critics Choice Award for Outstanding Lead Actress. Her additional television credits include the second season of Hulu's Castle Rock, in which she received rave reviews for her performance as a younger version of "Annie Wilkes" from the Stephen King novel and 1990 film Misery; the first season of the Apple TV+ series Truth Be Told opposite Octavia Spencer and Aaron Paul; Das Boot, a limited series sequel to the Wolfgang Petersen 1981 film; Ill Behaviour, a six-part BBC comedy thriller from writer Sam Bain (Peep Show); the critically acclaimed comedy Party Down, a show which earned an AFI Award in 2009 and was named one of TIME's Top 10 Shows of 2010; The Class, for which she was named one of 10 Actors to Watch by Variety; Related; True Blood; New Girl; and Judd Apatow's cult classic Freaks and Geeks. She can currently be heard voicing the lead character "Reagan Ridley" in the animated comedy Inside Job, which is now available on Netflix.
On the film side, Caplan completed production on the Lionsgate/Point Grey thriller Cobweb, in which she stars opposite Antony Starr. Her film credits include the following: Now You See Me 2 opposite an all-star cast including Jesse Eisenberg, Mark Ruffalo and Woody Harrelson; The Night Before with Joseph Gordon-Levitt and Seth Rogen; The Interview with Seth Rogen and James Franco; the sci-fi thriller Extinction starring opposite Michael Peña; Robert Zemeckis' Allied with Brad Pitt and Marion Cotillard; Save the Date (2012 Sundance Film Festival); Bachelorette (2012 Sundance Film Festival); Hot Tub Time Machine; JJ Abrams' sci-fi hit Cloverfield; and her breakout role as "Janis Ian" in Mean Girls. 
Caplan splits her time between her native Los Angeles and London.