Chris Geere as Jimmy Shive-Overly | YTW on FXX
Chris
Geere
Jimmy Shive-Overly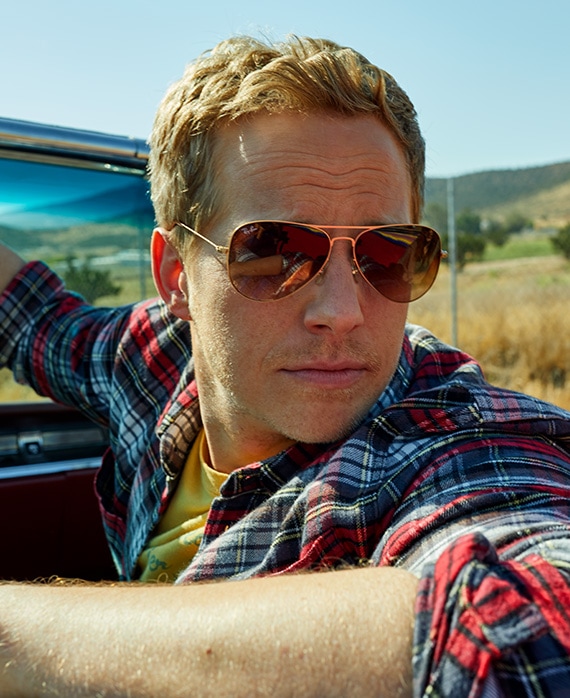 A brash, self-destructive narcissist with selective face-blindness, "Jimmy" (Chris Geere) is a British novelist living in Los Angeles. His hotly-anticipated first book — a semi-autobiographical tale of a father and son reconnecting — was a minor critical darling, even if sales were less than stellar.
Jimmy has been burned by relationships in the past and has thus written them off completely. He instead chooses to focus his energies on scotch, aggressively foisting his opinions on others, and writing his next book. Jimmy's crafted a very controlled lifestyle that allows him to stay firmly in his comfort zone; that lifestyle is quickly sidelined when Gretchen enters his life.
Born in Cambridge, United Kingdom, and trained at Guildford School of Acting, Chris Geere began his career on stage opposite Dame Judi Dench in Royal Shakespeare Company's All's Well That Ends Well.
A small sampling of his extensive UK series work includes BBC's award-winning series, Waterloo Road, Sky Living's The Spa, Ash Atalla's comedy Trollied, and Pete Versus Life opposite Rafe Spall.
Feature credits include After Earth opposite Will Smith and the upcoming horror comedy, Deadtectives, for Dark Factory Entertainment starring opposite Martha Higareda. Geere also held a hilarious role in The Festival with Joe Thomas and Jemaine Clement for Fudge Park/Film4 which hit theaters in the summer of 2018.
Geere was most recently seen opposite Tom Riley and Lizzy Caplan as "Joel," the well-meaning, but hilariously toxic lead in BAFTA winning writer Sam Bain's dark comedic limited series, Ill Behaviour, for BBC and Showtime. He can also be seen playing Sarah Hyland's love interest, "Professor Arvin Fennerman," on ABC's Emmy® and Golden Globe® winning comedy Modern Family.
Next up, Geere is thrilled to be joining the global Pokémon universe in Detective Pikachu for Legendary Entertainment set for global release May 10, 2019. Directed by Rob Letterman, he stars opposite Ryan Reynolds, Justice Smith, Kathryn Newton and Bill Nighy.
Geere splits his time between Los Angeles and Manchester where he lives with his wife and young son.