Desmin Borges as Edgar Quintero | YTW on FXX
Desmin
Borges
Edgar Quintero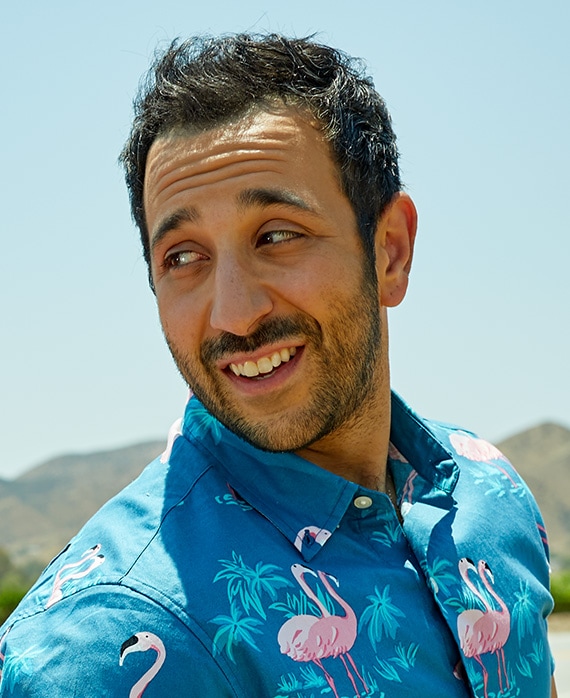 Edgar used to be Jimmy's pot dealer in college, but the two lost touch when Edgar joined the Army and did a couple tours in Iraq. Now back home, Edgar finds himself grappling with PTSD and searching for his place in the world.
Edgar and Jimmy reconnected a few years ago when Jimmy found him living on the streets. Now Edgar lives with Jimmy rent-free. In exchange, Edgar does light housework and cooks all of Jimmy's meals. Though Jimmy would be the last to admit it, Edgar has become his closest (and probably only) friend.
In addition to his work in You're the Worst, Desmin Borges recently co-starred alongside Paul Giamatti and Kathryn Hahn in Netflix's Private Life as "Sam," "Richard's" (Giamatti) rough-around-the-edges employee in the film written and directed by Tamara Jenkins, which follows Hahn's character as she undergoes multiple fertility therapies to get pregnant, putting her relationship between she and her husband on edge.
Additional television work includes AMC's Dietland and Seth Rogen and Evan Goldberg's hit series Preacher. On the big screen, he starred in the film adaptation of Caren Lissner's best-selling novel Carrie Pilby opposite Bel Powley and Nathan Lane, which premiered at the 2016 Toronto Film Festival. Borges also starred in the Henry Barrial drama DriverX, and in Camille Thoman's thriller Never Here alongside Mireille Enos and Sam Shepard.
Borges first gained recognition for his breakout performance in the 2010 Pulitzer Prize winning play The Elaborate Entrance of Chad Deity, portraying a sweet Puerto Rican nebbish named "Mace." That same year, he starred in Mark Waters' comedy Mr. Popper's Penguins, alongside Jim Carrey; Brett Ratner's action comedy Tower Heist, alongside Ben Stiller and Eddie Murphy; Magnolia Pictures' controversial drama Compliance, which won the 2012 NBR Award for Top Ten Independent Films; and in John Magary's comedy drama The Mend, opposite Josh Lucas, which premiered at the 2014 South by Southwest Film Festival. Additionally, he has held guest starring roles on several notable television series including critically acclaimed drama Madam Secretary (CBS), The Good Wife (CBS) and the crime drama Castle (ABC).
Borges splits his time between New York and Los Angeles.