Chris Parnell as Cyril Figgis | Archer on FXX
Chris
Parnell
Cyril Figgis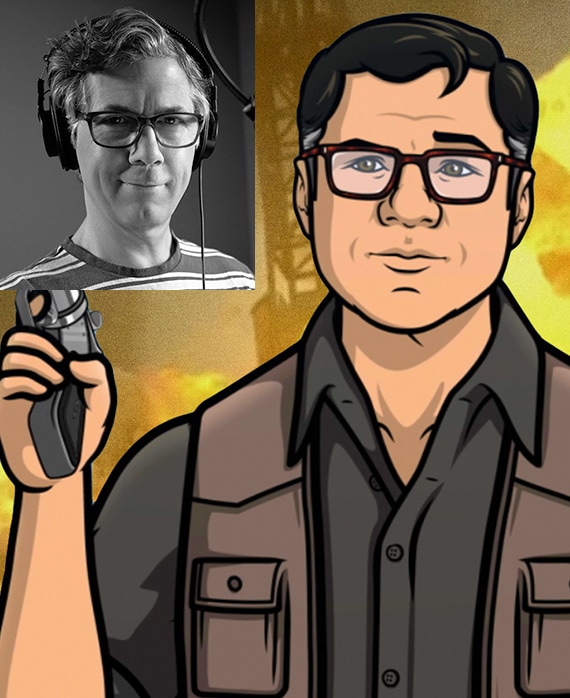 Cyril Figgis, voiced by Chris Parnell, has a love/hate relationship with the new bosses at IIA. On one hand he admires their complex bureaucracy machine, but on the other hand they keep sending him on missions he doesn't want to be on. Cyril would love nothing more than to stay at the office and work on spreadsheets all day, but how can he compete with a team of IIA accountants with years of experience? One thing is for sure, Cyril is probably the best accountant/spy IIA has…probably.
Parnell is widely recognized for his work as a cast member of Saturday Night Live from 1998-2006, where he was a part of many memorable sketches and digital shorts including Lazy Sunday. He also portrayed the standout role of "Dr. Leo Spaceman" on seven seasons of NBC's 30 Rock and starred as "Fred Shay" on three seasons of ABC's Suburgatory.
In addition to his work as "Cyril Figgis" on 13 seasons of FXX's Archer, Parnell is the voice of many animated characters including "Jerry" on Adult Swim's Rick and Morty, "Mr. Peabody" on DreamWorks TV Animation's The Mr. Peabody & Sherman Show for Netflix, "Snoot" on DreamWorks TV Animation's The Dawn of the Croods for Netflix, "Migs" on Disney's Elena of Avalor and various characters on Family Guy and American Dad!
His television guest appearances are numerous and include Grownish, Brooklyn Nine-Nine, Blackish, Inside Amy Schumer, Another Period, At Home with Amy Sedaris, Will and Grace, The Goldbergs and Unbreakable Kimmy Schmidt.
Parnell will next be seen on Netflix in the film Senior Year, starring Rebel Wilson and Alicia Silverstone. He will also soon be seen on Disney+ in the upcoming Chip 'N Dale: Rescue Rangers film. His previous film work includes Life of the Party, Battle of the Sexes, Sisters, Anchorman 2: The Legend Continues, The Five-Year Engagement, 21 Jump Street, Walk Hard: The Dewey Cox Story, Hot Rod and Anchorman: The Legend of Ron Burgundy. He had his feature film debut in 1996 in Jingle All the Way, playing a toy store salesman opposite Arnold Schwarzenegger.
Parnell is originally from Memphis, Tennessee and studied acting at the North Carolina School of the Arts.