Joseph Lucero as "Neron 'Creeper' Vargas" | Mayans MC on FX
Joseph
Lucero
Neron "Creeper" Vargas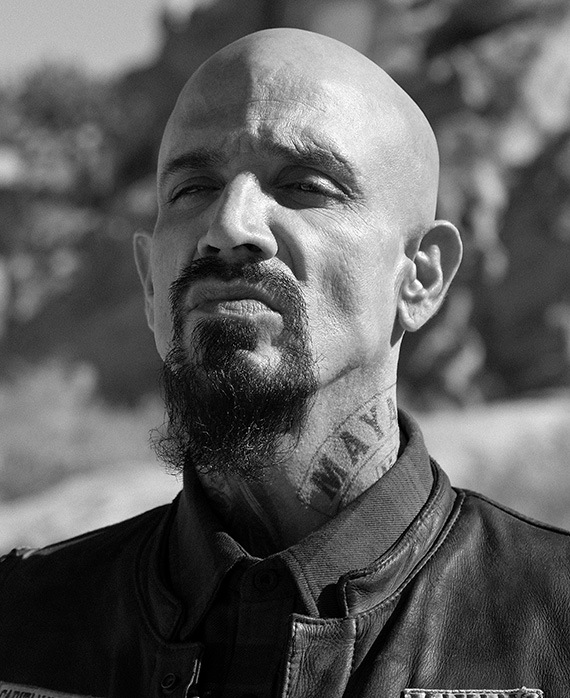 Joseph Lucero portrays "Neron 'Creeper' Vargas," a former addict whose loyalty to the club knows no bounds. As the Mayans continue down their dark path, Creeper questions the brotherhood's effect on the victims caught within the clubs' deadly wake.
A native of San Diego, CA, Lucero made his acting debut in Gridiron Gang, the inspirational 2006 film based on the true story of the Camp Kilpatrick Mustangs. He was also featured in Father G and the Homeboys, an award-winning documentary which powerfully chronicles Father Greg Boyle's transformative work with Los Angeles' toughest of gang members. Lucero's television credits include Dirt, ER, The Shield, Cold Case, Criminal Minds, The Closer, Shameless, S.W.A.T. and FBI from Emmy® Award winner Dick Wolf.
A third-generation gang member whose parents, brothers and uncles also struggled with heroin addiction, Lucero's troubles with the law began at the age of nine. He was in youth detention and later California state prison for 12 of his first 26 years. He made the decision to break away from gang life after his son was born while he was incarcerated. Determined to prove that he could make it as a father and contributing member of the community, Lucero became active with the 12-step program and numerous self-help groups, which became foundational components to leaving his former life behind.
His transformation journey was kick started after meeting Father Greg Boyle, a Jesuit priest and founder of Homeboy Industries, the largest gang-intervention, rehabilitation and re-entry program in the world, at a California Youth Authority (CYA) facility in the 1990s. After being released on parole from prison in 2003, Father Greg offered Lucero the opportunity to utilize his Criminal and Gang Members Anonymous (CGA) experience to bring awareness to the issues facing the formerly incarcerated by sharing his personal experience and being an example that change is possible. In 2022, Lucero was honored by Homeboy Industries with the Homeboy Hero Award at the Lo Maxímo Awards for courageously forging new pathways forward and for dedicating his life to giving back to his community.